Music by Gaetano Donizetti. Libretto by Salvatore Cammarano. Director: John Doyle. Opera Australia Opera Theatre, Sydney Opera House. September 28 - November 2, 2012.
The overture seemed to be running out of petrol when the audience began to realise something had broken down on stage. The front flat had failed to rise, bringing the opening to a halt. It took a few minutes to rectify.
It seemed extraordinary that a set which comprised next to nothing could still have something go amiss and continue to appear fragile as the night progressed.
The production was put together by three companies, Opera Australia, Houston Grand Opera and Teatro La Fenice. The scenic fruits of their co-production were flats painted with clouds.
The props were even more sparse, a chair or two here and there, and sticks for the chorus to wave, on occasions out of sync.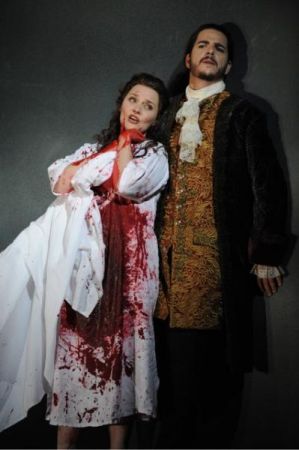 While some enjoy minimalism, allowing the voices to be the primary focus, others felt short changed.
What the opera companies saved on the set they lashed out on blood. Emma Matthews as Lucia came on stage, in the famous final scene, looking like she had gorged herself on an ox.
Her extraordinary singing brought blessed relief from the distractions around her. She hit the high notes with a thrilling precision you felt could make champagne glasses crack.
It's the role which catapulted Dame Joan Sutherland to international stardom in 1959. One can imagine the pleasure of seeing her on stage in the opera alongside Luciano Pavarotti.
In this production the role of Edgardo was played by American tenor James Valenti.
He looked like he stepped out of a Disney movie having, played Prince Charming, and while his singing was warm – it didn't reach the dizzy heights of Emma Matthews.
The most striking male voice was that of Giorgio Caoduro as Enrico. His soaring baritone voice was a treat, albeit performed with narrow range of emotions.
It was a night for opera aficionados rather than those seeking lavish entertainment.
David Spicer
Images: James Valenti as Edgardo & Emma Matthews as Lucia and Giorgio Caoduro as Enrico. Photographer: Branco Gaica