By William Shakespeare. Bell Shakespeare Company. Sydney Opera House until May 12, 2012. Canberra - May 17 - June 2. Melbourne June 7 – 23.
Sometimes a production can leave you scratching your head. Did it work? In this case perhaps the answer is almost.
As any student obliged to study Macbeth will know (even almost 30 years ago as is my case) there are three witches around the cauldron at the beginning of this tragedy. "Double, Double, Toil and Trouble, Fire Burn and Cauldron Bubble" they recite.
For this interpretation Director Peter Evans made them one witch who spoke in three voices. So we heard "Eye of Newt and Toe of Frog" in rather distorted form. While in one sense it was disappointing not to hear this memorable poetry clearly, it was a promising concept. The modern looking Paris catwalk gone mad dressed witch set the tone for a futuristic interpretation of Macbeth. No broom sticks or kilts here - contemporary dress and a style which reminded me of the movie The Matrix.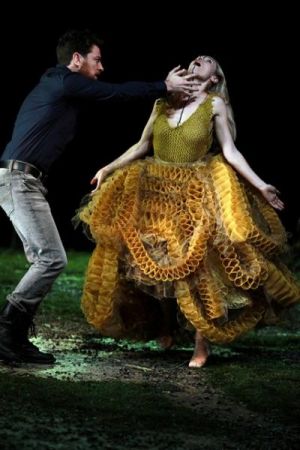 Certainly with its theme of murder, intrigue and plenty of ghosts, Macbeth has the potential for an exciting metamorphosis into a modern supernatural flavoured production. The trouble is to realise this properly would require flying and special effects which is not the way or the means of the Bell Shakespeare Company. They made do with an impressive large mirror over the stage and an intriguing green canopy on the stage floor.
Even so, the highlight of production was the appearance of a ghost. The scene when Banquo returns to haunt Macbeth at the feast was beautifully lit and dressed. Combined with sparkling acting, it made for absorbing drama.
Dan Spielman as Macbeth was dynamic and passionate. He looked great alongside the equally charismatic Lady Macbeth played by Kate Mulvany, who doubled as the dramaturg. Her scene when she arrived on stage covered in blood (struggling to out that damn spot) was so powerful that a rather earnest looking family left the theatre in what appeared to be in fright.
Did they think that Macbeth was a pantomime?
A swashbuckling sword fight with very shiny swords brought the drama to a satisfying conclusion.
This production had its own dramas back stage. Several members of the cast were struck down by food poisoning forcing opening night to be postponed.
When it did open John Bell was absent from the audience having succumbed apparently to a bout a flu.
Legend has it that to mention the name Macbeth (except during rehearsals) inside a theatre will cause disaster.
Someone must have slipped and spoke the word that tempts fate.
David Spicer
Images: Dan Spielman as Macbeth and Kate Mulvany as Lady Macbeth. Dan Spielman as Macbeth and Lizzie Schebesta as the witch. Photos: Rush.