Opera by Giacomo Puccini. Libretto by Luigi Illica and Giuseppe Giacosa. Opera Theatre, Sydney Opera House. Director: Moffatt Oxenbald. September 20 - November 1, 2012.
This beautiful looking production has been floating since 1997. The set resembles the inside of an exquisite Japanese doll house.
Panels rise and fall, light peeps through the windows, then they become transparent when the stars and full moon come out at night.
All of this is framed by shallow water - laden with flower petals.
In the opera Madama Butterfly is 15 years old. But it's often the case that the leading lady chosen to sing the incredibly challenging role is as much as three or more times as old as this.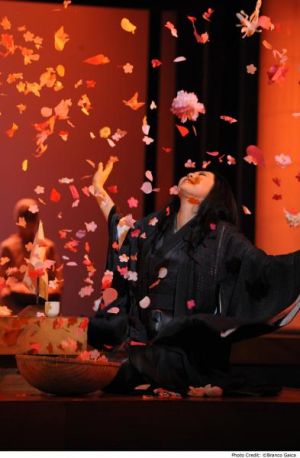 So it was a sublime pleasure to see a young soprano in the role, who, as it happens, was also Japanese.
As soon as she entered - Hiromi Omura lit up the stage and thereafter kept enchanting the audience with her sweet singing and fine acting.
Perhaps she did not have the power at the lower end of her range that a more mature singer might possess.But for those who value authenticity, it was a delicious performance to savour.
The fine acting was contagious. James Egglestone was dashing as B F Pinkerton and then descended into grief as the opera reached its climax.
The audience was warned, however, by Opera Australia CEO Adrian Collette to be kind to Andrew Moran.
Collette announced that Moran was stepping into the role of the United States Consul in Nagasaki to replace an ill Michael Lewis - but was only told that morning he was on.
There was no need to fret. He did not miss a beat and added to the strength of the acting ensemble.
We left the Opera House drifting into the night like the candles which bobbed on the stage pond.
David Spicer
Images: (top) Hiromi Omura as Cio-Cio-San and James Egglestone as Pinkerton and (lower) Hiromi Omura as Cio-Cio-San. Photographer: Branco Gaica.