National Institute of Circus Arts. 12 September – 22 September, 2012
The second year NICA students sure know a lot about showmanship. Made to Fit, a new circus work on at the Prahran NICA space until 22 September, is mesmerizing.
All areas of circus are covered: straps, aerial rings, adagio, hoop diving, tissu, poles, tightwire, hula hoops, general acrobatics and more. This is a showcase for the students to perform their specialist area for the first time, under the direction of Megan Jones and Meredith Kitchen (Jones is NICA's Head of Performance Studies and Kitchen is NICA's dance teacher).
The twenty-seven students' chosen areas seem a perfect fit. Bodies and skills are developing but, regardless, they're a talented class. They're supported by a diligent crew, an engaging soundtrack and sharp lighting. The stagecraft elements don't deter; they highlight.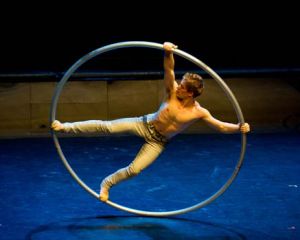 The performance space is large, with a set comprised of levels including trampolines, stairs and platforms. Every nook and cranny is utilised, with smooth transitions between each act. The result is a punchy show, even including the 20 minute interval.
Costumes add to the motif, which is an exploration of social norms and conformity. The males bravely wear jeans; the girls are neutral in beige. There is an urban street feel and a clear division between those in leotards and those in white jackets. Whether the motif is effectively carried out is irrelevant; the audience is made up of lovers of the human body and its many abilities.
Made to Fit is a place where all fit: it's appropriate for all ages, and an opportunity to observe Australia's best physical performers in the making.
Tammy Shmerling
Photographer: David Wyatt.