Book and music by Jean-Pierre Hadida. English Adaptation by Dylan Hadida and Dennis Watkins. State Theatre, Sydney, November 1 – 18, 2018 then touring Australia and New Zealand.
The most striking aspect of this production is the performance of Perci Moeketsi as Nelson Mandela. He beautifully captures the grace, calm and vision of the man who went from prisoner to President.
Born in South Africa, he was a young child when Mandela was released from prison and benefited from the new educational opportunities that a post-apartheid regime offered him.
The pride he feels in portraying this role is very evident.
Overall the production is part musical, part dance and part documentary in style.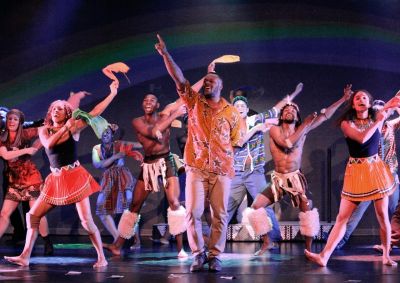 A large screen gives the year for each episode of his life. It follows Mandela's journey from opening a legal firm largely for black clients, forming the African National Congress, being arrested and convicted, spending 27 years in jail, then emerging to lead his country out of Apartheid.
Most fascinating were the tactics he used inside prison to maintain his dignity, control his captors until the prison guards (described by Mandela as the most racist of white South Africans) became his body guards.
The episodes are narrated joyously by David Denis, which he infused with flashes of rap dancing.
The choreography and music are eclectic. A troupe of finely chiselled bare chested men lead the dancing to music that ranges from traditional African flavour to music theatre styles.
Contrasting with the almost saint like Mandela were other characters.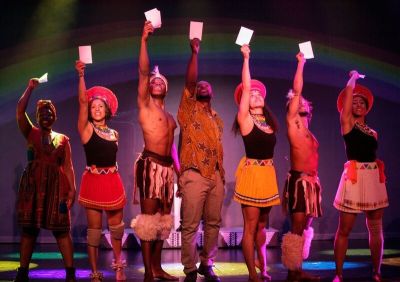 Tim Omaji portrayed the hot head black activist SamOnotou with great passion.
Another stand out was Blake Erickson the villain of the piece. His character Peter Van Leden is an Afrikaans Police officer who on hand enforces the iron will of the Government – but then is confronted with an excruciating family dilemma when his daughter falls for the "wrong" type of man.
This musical was originally staged in France and has a style we are not used to in Australia.
Don't expect a traditional musical – more a dramatic celebration of one of the towering figures of the twentieth century.
David Spicer