By Mozart. Adapted and Directed by Mark Dornford-May. Musical Director Mandisi Dyantyis. Choreographer Lungelo Ngamlana. Additional music and lyrics by Mandisi Dyantyis, Mbail Kgosidintsi, Pauline Malefane, Nolufefe Mtshabe. Performed in English and Xhosa. The Isango Ensemble presented by the Melbourne Festival. The State Theatre, Melbourne.. October 11 - 16, 2011
This production was the centrepiece of the Melbourne Festival for 2011 and it received a deserved standing ovation on opening night. If Mozart had been born in South Africa this is what the "Flute" would have looked like.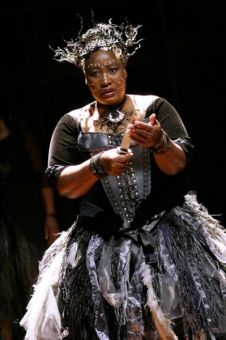 It was a joyous celebration. It wasn't complete, and it was only later that I realized that it was the sad bits that had been dropped: Pamina's "Ach ich fuhls" and Papageno's Suicide Aria among others.
This was a true ensemble production with the orchestral players, who lined up beside the stage, also singing and dancing and being very involved. The orchestra comprised mainly different size marimbas and other traditional African instruments, and often the ensemble would fill in the harmonies, either singing or humming.
The static set involved a sloping wooden platform with several trapdoors with scaffolding at the back. The overture had the conductor in the middle of the stage with his image on a white sheet at the back. He moved to the side and Tamino crawled out of a trapdoor to escape the dragon, which we didn't see. It was very effective, enhanced by very good lighting.
The voices were all operatically trained and consistently good. The Mozart melodies were still there, but occasionally there would be an African beat, or the ensemble would insert an African chant. It was sung in a good English translation, though occasionally some African phrases would appear. Not all the words came across.
Sarastro got to sing both arias a capella, with the ensemble joining him to fill out harmonies. It was magnificent. The Papageno was very funny, but it would be churlish to mention individuals in such an even cast.
Mozart would have approved.
Graham Ford
And Geoffrey Williams' review
Composed in 1791 (the year of his death) with a libretto by Emanuel Schikaneder, Mozart's The Magic Flute is one of the most beloved operas in the repertoire. Its origins as a singspiel (a play with songs) were most brilliantly realised in Milos Forman's film of Peter Shaffer's Amadeus, in which the stricken Mozart delivers his glorious vaudeville in a suburban theatre to capacity crowds who are enthralled by the work's musical and dramatic adventurousness. Away from the rigorous, uptight tradition of the Court, Mozart – it could be argued – had finally found his Tribe.
And how, I couldn't help imagining, Mozart would have adored the Isango Ensemble's stunning re-imagining of his beloved masterpiece – receiving its long-overdue Australian Premiere last night as one of the headline acts in this year's Melbourne Festival.
From the first notes of the instantly recognisable overture to the final joyous celebration of triumph over adversity – it was constantly impossible to hold back the tears as years of austere, straight-jacketed, over-produced Flutes were swept to one side and replaced by a previously impossible to imagine sense of almost divine synchronicity. This is a Magic Flute for our troubled times – a never less than awe-inspiring liberation of the musicality that is innate within each us.
Played mostly on marimbas (traditional xylophone-like instruments with the full range of a Western keyboard's sharps and flats), steel drums, and – even more astonishingly – glass bottles partly filled with water, Mozart's score was given a breathtakingly beautiful new lease on life; so much so that I doubt I will be able to listen to it in quite the same way again.
It could also be argued, however, that without the many previous incarnations of this problematic opera, the Isango Ensemble version might have limited points of reference. Musically, the purists might mourn the absence of the lush, traditional orchestrations – not to mention the overall result of Mr Dornford-May's judicious pruning and sophisticated and adventurous tempi (two and quarter hours flies by and other opera producers would do well to take note).
What is a certainty, however, is that by replacing instrumental orchestrations with vocal accompaniment (as in Papagano's poignant Act 1 aria about his quest to find a wife) and the extraordinarily moving a capella account of the glorious prayer for the male chorus that opens Act 2, left me with a newfound appreciation for Mozart's intricate harmonies – illuminated in a truly magical new light; beautifully and often more thrillingly sung as I have ever heard it before, anywhere in the world.
The colourful kingdom in which The Magic Flute takes place is effortlessly relocated to a corrugated-iron clad South African township, where the trials and tribulations of our journeymen and women are given a profound new sensibility. Infused with overtones of tribal initiation, guerrilla warfare and an array of Western influences (including a fabulous nod to The Supremes and a fabulous set of outlandish Afro wigs), every aspect of the interpretation made perfect sense – with one scene of dead bodies covered with grey blankets, in particular, packing an immensely powerful punch.
The 'grab bag' aesthetic of the costume design is an absolute masterstroke – with Papagano in camouflage, beautifully vibrant tribal attire, pink nightdresses (with matching teddy bears), dancing boys in their very camp flares, and a spectacular diva-esque frock for the Queen of the Night, all played an important role in defining time, place and circumstance.
This is an extraordinarily rewarding night of compelling music theatre. Go – and experience The Magic Flute like you never have before, and probably never will again.
Geoffrey Williams
To keep up with the latest news and reviews at Stage Whispers, click here to like us on Facebook, or follow us on Twitter.