Music and Lyrics by Benny Andersson and Bjorn Ulvaeus. Book by Catherine Johnston. Originally conceived by Judy Craymer. Presented by Michael Coppel, Louise Withers & Linda Bewick. Canberra Theatre. 30 November – 17 December 2017 and touring.
This wonderful production of Mamma Mia! is nothing short of a distillation of sheer joy. The colours, the set, the costumes, the lighting, the sound design, the choreography, the acrobatics, and of course, the music – so much care has been put into making the show truly spectacular. I walked in with some trepidation having not seen the movie or either of the previous two productions, and was a bit concerned that it might be a hastily cobbled-together plot around the content of the songs. Let's face it, that is true. But the attention to detail and care with which the production has been put together, with an emphasis on vibrancy, fun and energy means that you'll be suspending disbelief in no time. It probably helps to love Abba, of course.
The casting is brilliant. Sarah Morrison, playing 20-year-old bride-to-be Sophie Sheridan, has a clear, light voice, for the want of a better comparison, very like Abba's Agnetha. Her excitement, both at the prospect of marriage and of finally meeting her father(s), is contagious. Natalie O'Donnell as Sarah's mother Donna Sheridan is a tiny vivacious figure with a big, rich, warm Frida-like voice. As soon as she starts singing "Money Money Money", with full ensemble singing and dancing, any lingering doubts about the production vanish. Then there are Donna's friends Rosie and Tanya. Tanya (Jayde Westaby) is all posh class, and her duet "Does Your Mother Know" with best man Pepper (Sam Hooper) is brilliant, not least for Mr Hooper's acrobatic tumbling routine.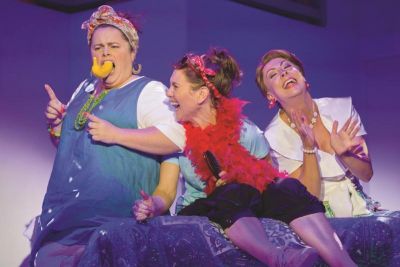 The character of Rosie (Alicia Gardiner) suffers a little bit from the Rebel Wilson Issue - namely, an overweight character played to be crude and oversexualised for laughs. It may be a stereotype but Ms Gardiner plays it to perfection. The three father figures Sam (Ian Stenlake), Harry (Phillip Lowe) and Bill (Josef Ber) all perform wonderfully. If I have any complaint, it's that perhaps there are not enough Greek faces for a Greek island?
The set replicates the look and light of a Greek isle beautifully, with deep blue skies, glorious golden sunsets and evenings under a large moon, projected onto a set of scrims at the back of the stage, while the lighting itself tends towards lovely warm golden tones. Central is a double-storied white Greek taverna, with plenty of upstairs and downstairs doors for the ensemble to peek out and add rich harmonies, and a magnificent white stone wall and tree.
More than anything else though, this production is about the music and the dance. Replicating the overdubbing of vocals on Abba tracks to give a full, bright tone, the arrangement uses the ensemble to flesh out the sound, popping out of windows or hiding in frames even when the song is ostensibly solo or a duet. The choreography is energetic and lively, drawing moves from jazz, contemporary dance, classic Hollywood musicals. The stage is almost constantly full of movement and colour, and the music? Just wonderful. Crowd favourites "Super Trooper" and "Gimme Gimme Gimme", and the big finale "Waterloo" had the crowd on their feet and dancing.
The Canberra crowd were cheering and whooping at the end, and if you like Abba and love musicals, you'll love this show. Leave your cynicism at the door and enjoy!
Cathy Bannister
Photorapher: James Morgan.