Directed by Lindsay Nobile. Townsville Choral Society. Townsville Civic Theatre, Townsville, Queensland. 30 January to 8 February 2020.
I HAD not seen any productions of this 20-year old jukebox musical before this, but I can see exactly why it has lasted the distance to become the ninth longest-running show in Broadway history.
We live in such uncertain political times and, coupled with a country that is still reeling from the effects of the bushfires and a hesitant first anniversary of Townsville's floods, Mamma Mia! provided the perfect recipe on a warm and humid tropical night in North Queensland.
This is not a show which relishes in either the dramatic situation or the great social message. It has a wafer-thin, flimsy plot: on a fictional Greek island, a young girl is getting married, and she wants her father to walk her down the aisle. Only she doesn't know who he is – and neither does her mother, a middle-aged Englishwoman running a taverna on the island. But, quite frankly, who cares about the plot? It is just an excuse to string together a whole lot of compulsive Abba songs for no other reason than to provide unbridled fun from beginning to end. And, if you expect anything else from this, then you will be disappointed.
This production is delivered by an enthusiastic, disciplined cast, which not only delivers the songs in faithful Abba-esque fashion, but also handles the choreography with aplomb, and plays it at lightning speed with every comic line and corny situation played to full effect.
In her second major role, Deborah O'Toole played the main character Donna Sheridan. There were a few amplification issues during the first act (ironed out in the second), but this did not ultimately detract from her strong central performance. As she demonstrated in last year's production of Shrek The Musical, her vocals were outstanding – most notably in "The Winner Takes It All", which drew significant applause from the appreciative audience.
Looking for all the world like Olympic athlete Alisa Camplin, Courtney Dibben played Donna's daughter Sophie with great skill. Ingenue roles are never easy, but she imbued her character with a clear sense of fun, assisted by an undeniable stage presence and a pretty impressive set of vocal chords.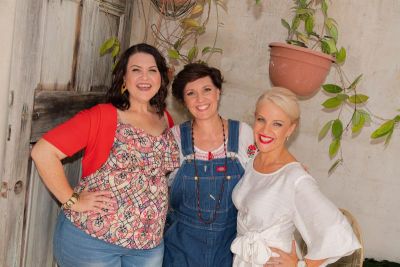 It was such a welcome pleasure to see Sandra Neal back on stage. Latterly, Townsville audiences have become more used to having her on the other side of the stage as the director of many recent musical theatre productions. Her comic performance as Rosie demonstrated not only what a compelling performer she is, but also her magnetic stage presence – my eye was constantly drawn to her. Her comic version of "Take a Chance On Me" was a highlight, and managing those impossible 70s platform shoes required a skill all of its own!
As Donna's other friend Tanya, Jodie Bell matched Neal every step of the way as the blonde, voracious multi-married man-eater, and she sent this all up deliciously in "Does Your Mother Know", ably assisted by the muscleman comedy of Jacob Martinez.
By their very nature, the male roles in the show are all secondary to the female roles, and Luke Reynolds, Andrew Higgins, Glenn McCarthy (with a suitable South African accent) and Sam Stewart all held their own against seemingly ridiculous odds!
Of course, a musical of this nature lives or dies by its music and while the songs in the score proved that there is probably an Abba song for just about every situation, it was the faithful orchestrations delivered by the 10-piece show band which really carried the impetus of the entire show – from "Honey, Honey" through to "Waterloo" and all Abba roads in between!
Every single member of the cast looked as if they were having a whale of a good time, and this energy and joie de vivre was deliciously infectious. At the end every member of the audience is guaranteed to have sore cheeks from smiling, aching limbs from toe-tapping and probably even be a bit hoarse from singing along.
This delightful, silly, infectious musical is great fun and is a perfect antidote for any blues. Guaranteed to get the box office till ringing!
Trevor Keeling
Photographer: Chrissy Maguire