By David Williamson. Director: Wesley Enoch. QTC with Black Swan State Theatre Company. Playhouse, QPAC, 18 Oct – 4 Nov. State Theatre Centre of WA Heath Ledger Theatre, Nov 10 – Dec 2, 2012.
David Williamson is at the top of his game with Managing Carmen, his new play about a cross-dressing AFL footballer. It's immensely funny, zips along faster than the NBN, and has a pay-off that's poignant in its plea for tolerance in our sport-obsessed society.
Brent Lyall (Tim Dashwood), a 23-year-old dual Brownlow medal winning footballer has a cross-dressing secret, which if it was revealed would not only ruin his career, but put at risk any lucrative endorsement deals. When a reporter Max Upfield (Greg McNeill) sniffs out the secret, Lyall's manager Rohan Swift (John Batchelor) goes into damage-control with hilarious results.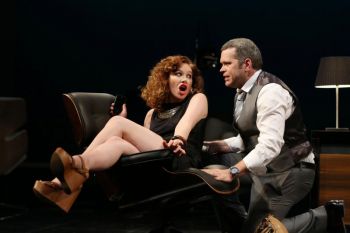 Tim Dashwood was the star of the night, whether in jocks or frocks his portrayal of the conflicted sports God was dramatically layered with his second-act coming-out-to-the-media-scene rich in believability and pathos. It was beautifully played and beautifully written. John Batchelor's portrayal of the money-obsessed manager was also hysterical, while Claire Lovering (Jessica) and Anna McGahan (Clara) as the two women in the footballer's life were big plusses, as was Greg McNeill as the newspaper-scribe.
Wesley Enoch's direction was clever, with his stage business providing almost as many laughs as the script. Top marks also to Richard Roberts' high-concept revolving set which moved the filmic script at breakneck speed and to Trent Suidgeest and Tony Brumpton for their lighting and sound.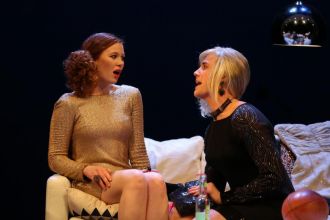 I don't think any AFL player has actually come out as being a cross-dresser so at this stage the concept is simply a fairytale. The nearest thing we have seen to it is when AFL stars don drag in Channel 9's The Footy Show. (It was a nice touch to show clips from The Footy Show during the actual production).
And lastly, let's say a word of praise for the frocks which almost rivalled Priscilla for glitz. Managing Carmen is a classy co-production between QTC and Black Swan Theatre Company, and proves once again why David Williamson is one of "Australia's Living National Treasures."
Peter Pinne
Images: Tim Dashwood and Greg McNeill; John Batchelor and Anna McGahan & Tim Dashwood and Anna McGahan in Managing Carmen. Photography by Rob McColl.
Read our feature story on David Williamson and Managing Carmen.