By David Williamson. Lane Cove Theatre Company. August 16 – 31, 2019
In his more recent works, David Williamson writes satirically in short grabs that move two-dimensional characters swiftly in an out of different settings. Even in professional theatre, making plays such as this work requires tight direction, snappy action, quick lighting changes and carefully rehearsed operation. Thus 'managing' Williamson is not something to take lightly. Whilst the dialogue might be amusing and the one-liners funny, a good satire depends on theatricality, timing and continuity.
Thus, 'managing' one of his plays can be nearly as difficult as managing a camera shy, cross-dressing Collingwood football star – the theme of this play – and the job of Rohan Swift (Steve Dula). Brash and loud-mouthed, he is anxious to make an even more commercial success of his protégé-cum-meal-ticket, Brent Lyall (Cam Ralph). Lyall is a star on the field, but not so competent when it comes to making TV commercials, so Swift employs well-meaning psychologist, Jessica (Angelica Mandani) to raise his image. It is Jessica who uncovers his cross-dressing secret.
When Clara Salope (Kelsey Hunter), Lyall's sexy 'girlfriend', also employed by Swift as an image boost, finds out about his secret and his obsession with designer clothes, she takes him clubbing in his "Carmen" clobber! The ensuing publicity when he/she is recognised by sleazy sports reporter Max Upfield (Alexander Morgan) leads to an unexpected conclusion.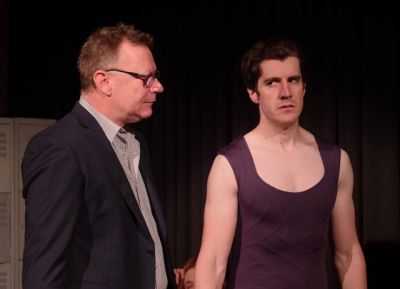 Managing Carmen harks back to the characters and themes of Williamson's 1977 play, The Club, but it is lightweight compared to The Club's length, themes and much more three-dimensional characters. Though there are relevant underlying issues in Carmen, this production concentrates more on the comedy than the satire, overplaying some of the characters to such an extent that they become no more than stereotypes.
Fortunately, Cam Ralph does manage to find some depth and even a little pathos in his portrayal of Lyall – and 'Carmen'. He wears both his footie gear and his frocks well, but it is important to 'dress' a wig as carefully as a character, and in this case the untidy state of the wig and his need to keep brushing its long 'tresses' off his face was a distracting detraction.
This play needs to be directed tightly and played relatively 'straight' to sustain it as more than just a succession of laughs and over-the-top characterisations. And lighting operation needs to be slickly rehearsed to coincide with the quick scene changes.
Carol Wimmer