By Wolfgang Amadeus Mozart. Opera Australia. Opera Theatre, Sydney Opera House. February 6 – March 24, 1021.
In the program notes of this breathtakingly fresh and very contemporary production of one of the most well-known and most often performed operas, conductor Simon Hewitt writes that director Benedict Andrews "and I have been passionate about restoring ... a sense of the disquieting transgressions that made the opera so popular AND so controversial when it was first performed".
Andrews reiterates in his own notes: "Simon Hewitt and I have refused to portray the characters of the opera as either costumed ghosts or buffoons (but as) contemporary people in states of emotional emergency".
Between them, and in equally imaginative collaboration with Ralph Myers (set design), Alice Babidge (costumes) and Nick Schlieper (lighting design), Andrews and Hewitt have riotously achieved their aim. This production may be controversial, but its fast paced, and almost-but-not-quite farcical physicality, certainly thrilled and excited its opening night audience: "More fun than a Christmas pantomime!" (after the wild, chaotic finale of the second act); "What a triumph!" (after the long and loud acclaim at the curtain call).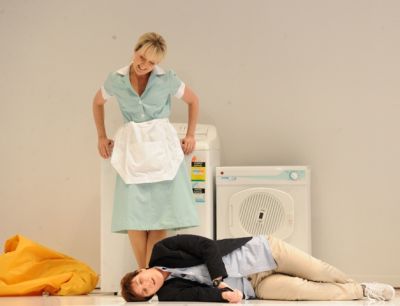 Mozart's music lends itself to this interpretation. Hewitt : "The true miracle of Mozart is that he manages to counterbalance extremes of human feeling so perfectly". The performers seem to relish these extremes as well! There is a sense of urgency in their voices that matches the pace of the music, the plot and the action – and the perfectly timed choreography (Lucy Guerin).
Sung in English, and set in a gated community (though this isn't really clear – it seems more like an extremely wealthy establishment with a large domestic and security staff), this production is certainly contemporary. The overture takes us into the very white, very antiseptic staff quarters of the villa. Pale green uniforms hang on either side of the wide room. Staff hurry in and chat as they change, very naturally, into their uniforms. As the overture draws to a close, Susanna arrives with her wedding veil, and so the opera begins.
Babidge's costumes, as we have come to expect, are crisp. The pale green of the domestic uniforms and the conventional black and white of the security staff blend with the stark white of the set. Small contrasts, such as the shocking pink of the bridesmaids' dresses, are achieved in the props – a bright yellow service trolley (in which Cherubino and the Count hide), a pot of red geraniums brought in by the irate (and very grubby!) gardener, yellow flowers on the wedding tables, silver balloons.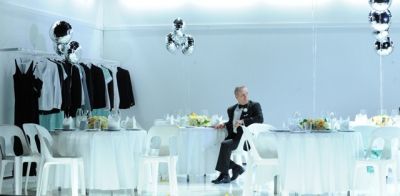 Then there are the very 'Andrews' moments that we have also come to expect! The Count and his hunters drag the large carcass of a deer on to the stage at the beginning of Act Two, and there it remains! Performers step around it. Lilies are strewn over it. The pot of geraniums is placed beside it. In the chaos of the finale to the Act, it is dragged to the back of the stage and 'embraced' by Don Basilio!
In Act Four, the forest is depicted by a continuous fall of coloured paper 'leaves', that flicker as they drift from above to cover the stage, a nice contrast to the white and silver of the wedding scenes.
Performers sing as they lie on the ground or hide behind racks of costumes, or pop up from a washing machine! Or perform intricate and very carefully choreographed hand and arm movements in chorus and finale moments.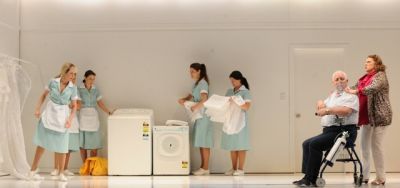 As with the Metropolitan Opera's production of The Magic Flute, this modern and very slick production of Figaro may defray fears such as those expressed by Lindy Hume (Spectrum, Sydney Morning Herald 28.1.12), "Opera is going through this existential crisis. Will it even exist in 20 years' time … if it doesn't lift its game and consider how relevant it needs to be in the modern world."
With directors like Andrews, conductors like Hewitt, and their creative design team; performers like Joshua Bloom (Figaro), Taryn Fiebig (Susanna) and Michael Lewis (Count Almaviva) who obviously embrace new approaches to opera; this lively production certainly brings the opera and its audience vividly into the 21ist century.
Carol Wimmer
Images (from top): Michael Lewis (Count Almaviva), Taryn Fiebig (Susanna) and Joshua Bloom (Figaro); Taryn Fiebig (Susanna) and Dominica Matthews (Cherubino); Michael Lewis (Count Almaviva) & Taryn Fiebig (Susanna), Conal Coad (Bartolo) and Jacqueline Dark (Marcellina) in Opera Australia's The Marriage of Figaro. Photogrspher: Branco Gaica.
To keep up with the latest news and reviews at Stage Whispers, click here to like us on Facebook, or follow us on Twitter.