Based on the book by P.L. Travers and the Walt Disney Film. Music and Lyrics by Richard M. Sherman and Robert B Sherman. Book by Julian Fellows. New Songs by George Stiles and Anthony Drewe. Willoughby Theatre Company. The Concourse Theatre, Chatswood. October 15 – 30, 2016
Willoughby Theatre Company's Mary Poppins is a joyous celebration of musical comedy on the community theatre stage.
Adapted from the classic Disney film, with its touching theme of healing a damaged family, thanks to the intervention of the beloved mystical nanny, it's a well-loved classic with instant audience appeal.
An exuberant ensemble, a top notch leading lady, a strong principal cast and a pair of terrific kids combine impressively. Snappy choreography, great costuming ranging from vivid to aptly atmospheric, and sets (from CLOC in Melbourne) which combine an old-fashioned story-book style fold-out house with tremendous projection technology complete the stage picture impressively.
Andrew Bartle's orchestra is top notch.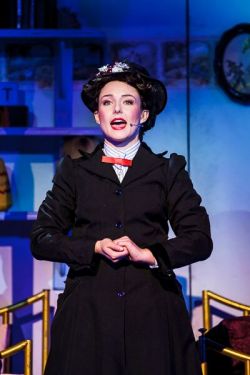 Michaela Leisk utterly embodies Mary Poppins, finding the delightful nuances of the role, to cast her spell on the audience in an accomplished acting and singing performance. Opposite her, Matt Hourigan brings exuberant boyish charm to Bert, the chimneysweep.
Brad Clarke's initially stern, forbidding George Banks conveys a underlying sense of damaged goods and insecurity from the outset, that allows us to empathise with him on his journey of self-discovery. Nina Marsh is a warm, sympathetic, sometimes slightly eccentric Winifred Banks.
Talented kids Freya Carmody as Jane Banks and Nicholas Cradock as Michael Banks play out very affecting character arcs, from precocious brats to joyful children in a family restored to happiness and love.
As the household staff, Donna Fitzgerald is a suitably bustling Mrs Brill and Kris Fennessy an aptly bumbling Robertson Ay.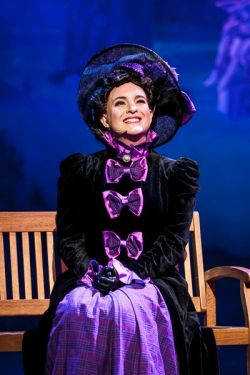 Among a strong support cast, standouts include Karen Oliver's suitably villainous, gothic nasty nanny Miss Andrew, and Trisha R. Kelemen's boisterous, lively Mrs Corry. The attitude and spirit which Sophie Moran brings to the role of a featured bank employee was simply delicious.
Indeed, one of the many strengths of director Declan Moore's marvelous polished production is the way that virtually everyone develops individual characterisations.
In the age of Musical Theatre, Mary Poppins is a happy throwback to old-fashioned musical comedy, with its two-dimensional supporting caricatures, often reminiscent of pantomime, and its elaborate scene changes masked by orchestra interludes.
And yes, Mary flies. Not perhaps quite so breathtakingly as in the professional version, but within the budgetary limitations of non-professional theatre, it does the trick, clearly pleasing the many audience members who had not seen the show in the city.
In community theatre terms, you'd have to say Willoughby's production is pretty Supercalifragisticexpialidocious!
Neil Litchfield