The Melba Spielegtent, 35 Johnston Street, Collingwood. February 14 – Mar 2, 2019
Fiery love equals the bloody sport of a Spanish bullfight!
Matador is written, directed and produced by Bass G Fam, who has developed a passionate fusion of dance, burlesque and circus acts that circumnavigate the emotional roller coaster of raging love.
This is a torrid romance between a female Matador (Kelly Byrne) and the male Bull (Ned Zania). Along with a talented cast of performers, Matador brings zesty high energy, modern and Latino choreographed dance to blazing life.
Matador is divided into two acts and is defined by a series of love actions that begin with love at first sight, through to many tumultuous emotional forays and ending in a heartfelt union. Thirteen dance routines embrace tempestuous, unruly and hot bloodied emotions and, together with circus and burlesque performers, contribute a flawless edginess adding an alluring celebration of torrid sexuality.
Contortionist and aerialist Tro Griffiths hangs high in a tangled awe-inspiring performance. Indigo Hunt is queen of the whip, as Edson Garcia bows down to his mistress. Love cuts deep and emotions run wild in dance-like vignettes that cover the whole gamut of love.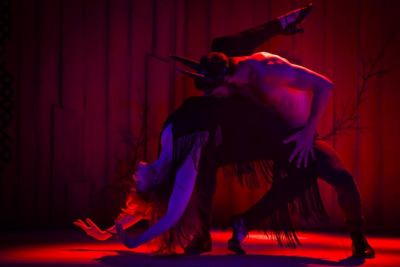 "Love is love, and knows no gender, no race, no age," as is stated in the program notes. Love betrayal can flip over to either party, creating a fuzzy blurring of male and female roles, highlighting the contrary and uncontrollable nature of love, as we see in the fierce sexual foreplay between the two bulls, Zania and Christopher Politis. The seductive hoop aerial duet performed by Byrne and Zoe Marshall is elegant and sensual. Sassy performances that take on a refreshing embrace of homo-eroticism, both flirtatious, sexy and love bound.
The popular music soundtrack which booms across the Melba Spigeltent includes Destiny's Child, Micheal Jackson and Eurythmics. The vibrant lighting streams from sharp reds to diffused fuchsia pinks and purples. This is a fun and entertaining show that will appeal to the lusty senses.
Flora Georgiou