Music & Lyrics: Tim Minchin. Book: Dennis Kelly. Director: Matthew Warchus. Musical Director: Peter Rutherford. Choreographer: Peter Darling. RSC & Louise Withers, Michael Coppel & Michael Watt Production. Lyric Theatre, QPAC. From 25 Nov 2016.
Brisbane's drought has finally broken; after two years of constant revivals we at last have a major new musical to celebrate, and it's well-worth celebrating.
With seven Olivier awards, and five Tony's, Tim Minchin's Matilda is the most successful and most acclaimed original musical of the last decade. Based on Roald Dahl's book, the musical version actually improves on its source material with Dennis Kelly maintaining Dahl's dark subversive story strand and adding layers of fun and funny jokes to the script which play beautifully alongside Minchin's literate and witty lyrics and insanely catchy music.
This production is a carbon copy of the West End and Broadway productions, right down to Rob Howell's imaginative sets and costumes, Peter Darling's callisthenics-type choreography, and Matthew Warchus' exuberant direction.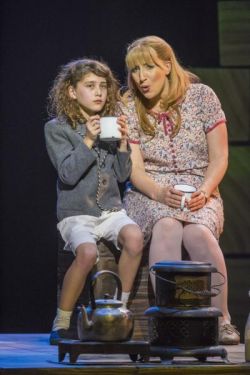 The kids lead the show and instead of a faceless group like Annie's orphans and Oliver!'s workhouse boys,Kelly has given them characters to play, and play them they do; singing and dancing and doing somersaults at the drop of a hat, they are already triple-threat performers.
Heading the bunch of course is Venice Harris as the 'naughty' Matilda, a girl with a cretinous family, an IQ of 150 and telekinetic powers. Harris' performance mixed a wicked deviousness, tender warmth, and a stage presence well beyond her years, that was always ingratiating. Her vocal of "Quiet" was standout. Exodus Lale, a former young Simba in Disney's The Lion King, was hilarious as the chocolate eating Bruce, whilst Ilsa White's Amanda was as cute as a button doing wheelies like the young pro she is. Together the kids made the finale anthem of rebellion "Revolting Children" a rock 'n' roll blast.
As Matilda's Latin dance loving mother Mrs Wormwood, Nadia Komazec brought a deliciously vulgar vibe to the character and sizzled in her flashy routine "Loud" with Travis Kahn as Rudolpho. Matilda's shonky used-car salesman father Mr Wormwood is one of the musical's funniest roles. Whether trying to scam the Russian Mafia, refusing to acknowledge Matilda is a girl, or belting out "Telly" ("All I know I learnt from telly"), Daniel Fredericksen was a riot of fun.
James Millar's drag turn as the hammer-throwing Olympian Miss Trunchball was wonderfully sadistic with storm-trooper menace. Straight out of pantomime, it was a performance to hiss and boo. Cle Morgan brought a kindly spirit to librarian Mrs Phelps, with Helpmann award winner Elise McCann a 'mousey' and insecure Miss Honey who sang a poignant "My House",
Peter Rutherford's musical direction of the keyboard-heavy band was unobtrusive, with Hugh Vanstone's cartoony-look lighting a plus. Matilda revels in the joy of words which have never been more eloquently expressed than in this glorious musical.
Peter Pinne
Photographer: James Morgan