Motus. Midsumma. Arts House in North Melbourne. Jan 31 – Feb 2, 2019
MDLSX is a featured show, billed under the umbrella of 'Body' at this year's Midsumma program, currently on at the Arts House in North Melbourne. This extraordinary show gives audiences a rare opportunity to be part of a profoundly experimental and cinematic solo theatre performance.
Sylvia Calderoni has been performing MDLSX for the past two years, travelling the globe to rave reviews, astounding her audiences with her svelte, punkish hard edged performance. She delivers iconoclastic material that addresses family, gender and sexual politics within a self -reflexive and contextual platform.
Motus are a revolutionary theatre troupe formed in Italy back in 1991, founded by the two directors Daniela Nicolo and Enrico Casagrande. They develop work from contemporary and classical texts and use cutting edge performance that challenges artist and audience to seek and search for a better understanding of themselves and their immediate world.
MDLSX blurs boundaries, fuses artistic forms and creates chaos that is anarchic, visceral and outright provocative. This is a pastiche performance that sources material from Calderoni's own catalogue of personalized family home videos of herself as a young child to young adult - projected on to a circular screen while delivering a monologue that is subtitled from Italian into English on to a bigger screen.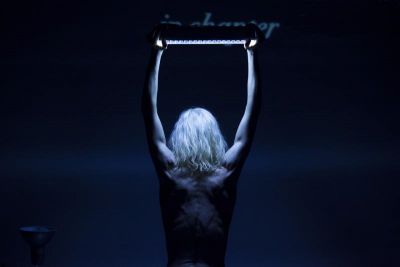 Calderoni brings more of herself into the show with her already outstanding status as a DJ in Italy; she performs to her own personalized selection of rock songs that include REM, Rodrigues, Yeah Yeah Yeahs, Buddy Holly, The Smiths and Talking Heads. Her mobile phone is a purposeful prop for her selfie-self -reflective moments between her wild gyrating movements across the space, between peeling her clothes off and on and unabashedly revealing her androgynous skeletal body. A psychedelic light show, continually bathes her space, creates a sense of euphoric confusion and masks her intentional and playful sexual ambiguity.
Her body in question! Calderoni deliberately and mindfully taunts the audience who are beaming with curiosity. She uses fragments of dialogue and performance of the double gendered protagonist known as Cal/Caliope from Middlesex by Jeffrey Eugenides, the Pullitzer Prize winning novel (2002); gives us snippets of a recorded interview with gender theorist Paul. B. Peciado; a colourful montage of budding flowers on screen; Nietzschean ideals on Apollo and Dionysus; Marxism concepts. Calderoni never ceases to bounce off her cathartic persona and highly expressive voice and physical movement.
Flora Georgiou
Images: Silvia Calderoni. Credit. Alessandro Sala Cesura per Centrale Fies.