Adelaide Cabaret Festival. Dunstan Playhouse, Adelaide, 9 June 2019; Elizabeth Murdoch Recital Hall, June 1 & 13; Sydney Opera House, June 16; QPAC, June 19.
Nancy and Beth is the creation of Megan Mullally (from Will & Grace) and Stephanie Hunt (Friday Night Lights), a singing and dancing duo reviving and restyling songs old and new. Their harmonies are sublime, their choreographed dancing is beat-perfect – and together, it's hilarious.
Centred around two Wal-Mart chairs, Mullally and Hunt are identically dressed in peach tracksuits, with twin buns and matching glasses. Their choreography on, in and around the furniture is physically impressive, yoga-inspired and intentionally full-on. There's nothing subtle about the performances here, with an unexpected highlight being a cover of Gucci Mane's explicit "I Don't Love Her": the lyrics couldn't be further from feminism, yet in the hands of Mullally and Hunt, there's extraordinary power.
Their out-of-breath conversations between songs are improvised hilarity, incorporating local references (for Adelaide, these included serial killers and churches), and their dry and wry humour has us laughing out loud – how they set the scene for the double-entendre-filled "If I Can't Sell It, I'll Keep Sitting On It" is funny enough, but the graphic dance they perform whilst singing so beautifully is hysterical. The strength of the friendship between these two is obvious, ensuring their synchronicity in voice and movement – and they're clearly enjoying this as much as the audience.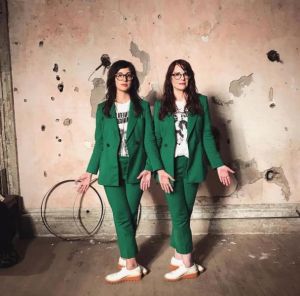 The bluegrass harmonies are wonderful, shuffling through genres as diverse as jazz and gospel, country and hip hop, and it's not all laugh-out-loud: the haunting "Waiting for My Child to Come Home" will give you goosebumps.
They're more than supported by their red jump-suited band: Datri Bean's keyboards (and occasional cornet) with Joe Berardi's drums are the strong backbone for most of the pair's songs; Andrew Pressman's bass (guitar and double) is thumpingly good; Roy Williams offers the right vibes on lead guitar; and whilst they all lend their voices throughout the evening, Petra Haden's vocals are jaw-droppingly brilliant.
The setting in the Dunstan Playhouse didn't look right at the start of this performance, yet Mullally, Hunt and her band fill the space, the packed audience absorbing every word and note to contradict the apparent lack of intimacy. The ninety minutes go too quickly, and when Mullally tells us that this is the last song, then adds that there are three more hours of spoken word, we're half-hoping it isn't a joke.
Mark Wickett
Photographers: Alex Gorosh and Giles Clement