Concert Hall, Queensland Performing Arts Centre (QPAC), Brisbane. 19 June 2019
Self-styled musical misfits Megan Mullally (Broadway veteran best known for her TV work in Will & Grace) and Stephanie Hunt (Californication), are the harmonising lead singers of their band – Nancy & Beth – a folky, punky, jazzy collaboration with an equally talented group of performers. Hidden behind their red prison-style uniforms, 'Nancy & Beth' are the magic violin and vocals of Petra Haden, the groovy keys and uke of Datri Bean, solid drumming by Joe Berardi, super bass by Andrew Pressman and electric guitar by Roy Williams. When this team harmonises, they sound like a mountain folk family.
In a vein of twin-sister shtick reminiscent of Australia's Kranskies, Mullally and Hunt play droll and downbeat characters. The routine downplays their extreme talent. In fact, they act as if they are not really trying to put on a show at all – they may just be friends who work in a secondhand furniture shop together. It mostly works, but can lag. Nevertheless, the energy is maintained by the strong streak of feminism that runs through the show like a tagline in a stick of rock candy. It is more than a hint in their presentation of suggestive old blues numbers like 'Fine Brown Frame' and 'Please Mr Jailer' and their brilliant cover of rapper Gucci Mane's 'I Don't Love Her'.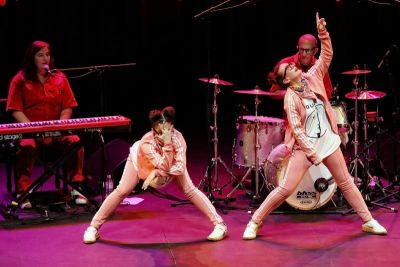 The pair wear their musical avant-garde heart on their sleeves – or in this case, their pink tracky dacks. They reveal that a recent show had a difficult audience, and I'm not surprised. I think a smaller venue, like the famous Café Carlyle, is perfect for this quirky show – but bigger venues like the Concert Hall demand more work. I would have welcomed more rehearsed banter and maybe a few cabaret in-jokes – like a costume change – and less of the unison choreography involving two boring office chairs, which for me created a distance between the performers and the audience. I guess I was expecting more American chutzpah – which did arrive as the show built to the end.
For the Brisbane audience, there was an unexpected treat. Serendipitously, Mullally's husband, actor Nick Offerman (Parks & Recreation) also performs at QPAC this week. And so he clambered up on stage to introduce the band –surreally comparing each musician to a species of Queensland fauna. It was engaging and funny, and the audience loved the interaction.
When the encore came around, we were treated to two of the best songs of the evening (spirituals 'Up to the Mountain (MLK song)' and Leiber and Stoller's 'Saved' – worth the price of admission alone. The duo just stood at the front of the stage and sang their hearts out, joined by Petra Haden (who is from a family of talented musicians). How I wish these extraordinarily talented women had showcased their vocals more in soaring moments like these, unfettered by choreography and props. The numbers inspired a toe-stamping sing-along and standing ovation for a truly fun and eclectic evening's entertainment.
Beth Keehn
Photographer: Prudence Upton