By Johannes Luebbers and Nicholas Christo. Directed by Nicholas Christo. Roundhouse Theatre, WAAPA, Mt Lawley, WA. 13-19 November, 2015.
The World Premiere of Melba, written by Johannes Luebbers and Nicholas Christo and performed by WAAPA Postgraduate Vocal students, reveals an exciting new biographic 'operatic drama' about an Australian icon, which is beautifully performed.
This look at the turbulent personal life of Nellie Melba as she rises to stardom is juxtaposed against operatic performances from the masterpieces of her time — which in turn help to tell Melba's story. The mix of opera-inspired new music and the work of Puccini, Verdi and other operatic composers works extremely well.
Three actresses play the iconic woman of the title. Priscilla Cornelius is stunning as 'Melba,' who is present on stage almost continually as the confident diva she becomes, looking back on her life. She delivers breathtaking operatic performances and shows wonderful depth of character.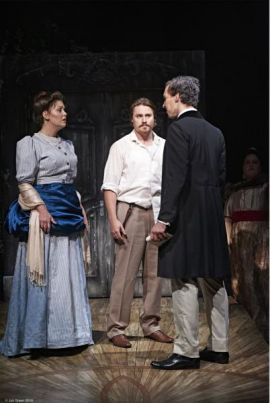 The developing artist 'Nellie' is played by both Esther Counsel and Eimear Foley, both of whom sing exquisitely and whose performances reveal different aspects of this complex and fascinating woman. The three performers work seamlessly and cleverly together.
Nellie's son George is played in breeches by Monica Brierley-Hay showing a gorgeously voiced, cheeky vulnerability. Nellie's husband Charlie is played well in a multi-levelled performance by Lachlann Lawton.
Chelsea Burns is strong as stern French mentor, Madame, with Belinda Cox an idea best-friend as Gladys and Jason Kroll lovely as Gladys' husband Frederick.
Charming, aristocratic love interest Phillipe was played with panache by Robin Fletcher.
Excellent support came from Jake Bigwood, Kelly Porter, Claudia Sosin and Ry Charlson as well as a focused and talented chorus.
Musical director David Wickham accompanied Johannes Leubbers' evocative score on a grand piano tucked into a corner of Rozina Suliman's decorative and consciously operatic set. Matthew Dibbs' lighting helped highlight the contrast between the overt theatricality of Nellie as a performer with the intimate drama of her private life.
This is a highly engaging new work about one of Australia's most beloved performers, which had the audience on the edge of their seats. The wonderful work from WAAPA's post graduate vocal students under the direction of librettist Nicholas Christo was an excellent way to bring this great new work to life.
Kimberley Shaw
Photographer: Jon Green