By Jeanie Linders. Directed by Alli Pope-Bailey. Crown Theatre, Perth, WA. Dec 5-10, 2017
Stage Whispers joined over 1000 women 'of a certain age', and a handful of slightly befuddled gentlemen, for the first night of Menopause the Musical's short Perth season.
Nearing the end of a tour of single night appearances, mostly in NSW, Perth is the only "sit down" section of the tour and must be a break for the cast from the whistle stop pace of the run. This section ends on December 16, but the show resumes touring in March, including a return to WA.
Despite the name, Menopause the Musical is closer to an overgrown (albeit very good) cabaret, than a musical. There isn't a definitive plot, but there are some great relatable characters and some toe tapping tunes and song parodies from the 60s, 70s and 80s. The nods of assent and frequent laughter of recognition showed that it was hitting its mark with the audience. Local references (as is tradition with this show) brought the show close to home.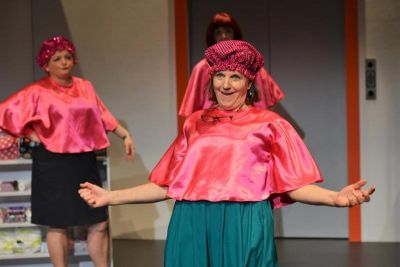 Victoria Nicholls is loveable and very funny as the Dubbo Housewife, Meg Kiddle captures the Earth Mother beautifully and has wonderful facial expression, Melanie Evans brings authority and a power-house voice to the Professional Woman and Lilias Davie has glamour and vulnerability as the Soap Star.
Vocally this show is very impressive with gorgeous harmonies and a quartet of strong singers. Some microphone issues made me wonder whether the cast are singing 'live', but either way, it is a very entertaining sound track.
The very solid touring set is a little too narrow for the Crown Stage (although staging hides this nicely), and I can't help thinking this show would be stronger in a more intimate venue.
The quintessential Girls Night Out. If you are pre, post or presently menopausal, I suggest grabbing a girlfriend and checking out this celebration of the change.
Kimberley Shaw