Music and Lyrics by Stephen Sondheim. Book by George Furth. Little Triangle. The Depot Theatre, Marrickville. March 7 - 24, 2018.
In 2017, Stage Whispers editor Neil Litchfield wrote of Little Triangle's production of Sunday in the Park with George: "Little Triangle's potential for presenting quality small-scale musical theatre on a shoe-string is one of the most exciting things to happen in Sydney's indie Music Theatre scene."
I know he was sorry to miss opening night of this, their second production, but I'm happy it gave me the chance to see this precision-paced production that pays vibrant homage to the unique vocal rhythms, musical juxtapositions and real characters that are distinctly Sondheim.
One of the least performed of Sondheim's works, Merrily We Roll Along opened on Broadway in November 1981 – and closed after only sixteen performances. Yet its music, and its story, resound theatricality. It reviews the professional and personal life of composer and musical producer Franklin Shepard and his best friends, lyricist Charley Kringas and writer, Mary Flynn. As it takes the audience backwards in time from 1976 to 1957, it compares the disappointments and dilemmas of adulthood with the hope and idealism of youth.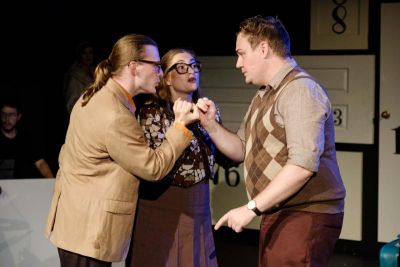 The intimate nature of the Depot Theatre and a talented and committed cast allow director Alexander Andrews to make Sondheim's characters reach powerfully into to the audience, sharing their despair and their joy in carefully drilled choreography and clear, beautifully blended, microphone-free voices, in collaboration with musical director Conrad Hamill on strings and pianist Antonio Fernandez.
All seventeen performers work seamlessly together in carefully structured choreography and thoroughly rehearsed vocal work. In addition, Alexander has realised that Sondheim's work requires clear character development as well as musical talent. In his direction – and in his costume design – Alexander has worked to ensure that every character is well-defined and convincingly portrayed. So much so, that it seems unfair to single out performances.
However, Patrick Howard as Frank, Zach Selmes as Charley and Victoria Zerbst as Mary establish in both action and song, the strong, yet damaged, bonds between the three "Old Friends", and the connections that tie them inexorably to the people who have defined their history over nineteen years – especially Shepard's wives.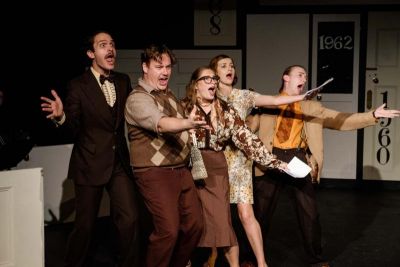 Beth, Shepard's first wife, whose steadfast trust he has betrayed, is played with hurt stoicism by Shannen Sarstedt who finds all the memories of past joy and present sadness in the lingering notes of "Not a Day Goes By".
Matilda Moran depicts both the celebrated performer and clever manipulator and temptress in Shepard's second wife, Gussie. Moran has an imposing presence and strong voice, both of which she uses as skilfully in this role.
Using minimal set suggestions (a drinks trolley, various chairs, some suitcases), Alexander and his cast set the scenes with a pace that matches the tempo of the music – at the same time depicting characters that illustrate the highs and lows of what is, unfortunately, too often, a typical show business story.
The lows, however, won't be what one remembers of this production. Rather one comes away with strengthened belief in power, talent and tenacity of those committed to the Arts.
Carol Wimmer
Photographer: Clare Hawley