By Mary Zimmerman. Direction & Design: Dino Dimitriadis. Lighting Design: William Ratcliff. Featuring Jarrod Crellin, Rowan Freeman, Sophie Haylen, Richard Hilliar, Daniel Hunter, Jacqui Livingston, Danielle Maas, Alex Nicholas, Katrina Rautenberg, Katie Shearer, Tim Warden. Pact Space Erskineville NSW. 4-21 July 2012
Ovid's erotic and audacious 12,000 line epic poem 'Metamorphoses' was written in the first century of the Roman Empire. These were turbulent times of experimentation, licentiousness, love and violence. Ovid's poem recalls one hundred and fifty stories from Greek mythology that illustrate these compulsions in man. Mary Zimmerman turned some of the tales into theatre and director Dino Dimitriadis and his team were drawn to her invitation to "create images that amplify the text, lend it poetic resonance or even contradict it".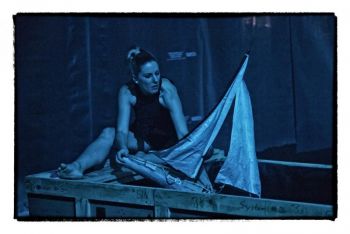 He does, and with his cast of eleven actors, they do it very well. This isn't your usual Sydney vanilla theatre, with actors directing their monologues at the audience, rather than having dialogue and interactions with other characters. This is a work based upon movement, light, sound and boundless energy and imagination. There are important stories and realistic characters. Each story begins with one of the nine large wooden box on stage being opened, revealing the elements that will drive that particular tale. This clever production design concept works beautifully and enables each story to stay a mystery, until its box is opened and the contents revealed. The boxes also serve as platforms for oratory, dance, movement, sex and repose.
The first box is opened to reveal a pool of water, where life begins. This and the following stories reveal aspects of man; pride, humiliation, love, eroticism, sex and more. Several of the cast take part in each story, whilst the others amuse themselves or simply rest. All the cast perform well, but there are outstanding and courageous performances from Sophie Haylen, Richard Hilliar and Jacqui Livingston.
The seats are somewhat uncomfortable at the Pact Space, and a licensed bar would be appreciated by the audience before and after the show. Otherwise, this was a very enjoyable and satisfying evening of innovative theatre. Sydney needs more shows like this.
Stephen Carnell
Images: Leo Bonne