By David Greig. Music by Gordon McIntyre. Red Stitch (VIC). Red Stitch Actors Theatre. Director: John Kachoyan. November 16 – December 15, 2012
Life can be like a poker game in the world of Midsummer. Turn the card over and you may be lucky and win; or turn it over and you may not get what you hoped for.
Helena and Bob, the unlikely couple in Scottish playwright David Greig's romantic comedy performed by Red Stitch, play the game of yes, no or maybe, leaving destiny hanging - they may end up together or they may not, it depends on the choices they make, choices that seem inconsequential at the time but could alter the future.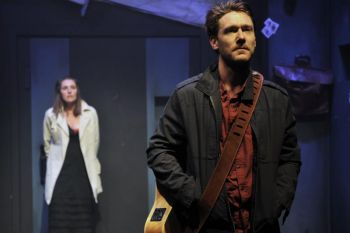 Helena (Ella Caldwell) and Bob (Ben Prendergast), are two thirty-somethings who in the own minds are losers with little in life to show for. They meet in a classy wine bar, or more likely Helena, after a bad day at the office and in a state of the doldrums, plucks up the courage to approach Bob for a drink, albeit with the agenda for more. Although the ensuing, lacklustre rendezvous is meant to be a one-night-stand, the couple eventually wind-up having the time of their lives on a hasty weekend away courtesy of a major stack of cash accrued via Bob's involvement in shoddy petty crime. What happens next you will have to go and see but the play cleverly ranges from the affecting to the hilarious and you will find yourself wishing for this pair to get together.
Caldwell and Prendergast are believable as the reckless Scottish couple and they perform Gordon McIntyre's music and lyrics with genuine heart. Their comic timing is near perfect and the opening night crowd loved it.
Edinburgh's magical summer solstice is the poetic touch to Midsummer.
Karen Coombs
Photographer: Jodie Hutchinson