By Ron Sieminginowski and Giles Watson. Directed by Adam Mitchell. The Regal Theatre, Subiaco, WA. April 9-21, 2019
It is a rare occasion that Perth sees a large scale World Premiere musical. Mimma, a musical of war and friendship, is a lavish professional production with beautiful production values, making its debut at The Regal Theatre.
Set against the rise of fascism in Italy, and the Second World War in London, Mimma touches on many issues, but is focused on the friendship between Mimma, an Italian journalist, who speaks out against Mussolini, and Sarah, an aspiring jazz singer. The music, composed by Ron Sieminginowski and musically directed and orchestrated by Sean O'Boyle, runs from soaring operatic arias, in Italian, through to smoky jazz, and tap numbers. Twenty-one members of the Perth Symphony Orchestra create strong accompaniment to some amazing singers.
The production looks spectacular. Brian Woltjen's multi-story and quite stunning set serves as the basis for many locales (some more successfully than others) and there are some wonderfully theatrical moments - especially the opening shipwreck scene - which is expertly created with help from lighting designer Trent Suidgeest and sound designer Ben Collins. Moving image design by Michael Carmody is particularly impressive.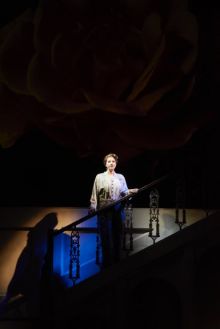 Much of the advertising has centred on the star billing of Mirusia Louwerse, who plays the title role of Mimma Marini. Mirusia sings gorgeously and anchors the show with grace, forming a wonderful relationship with Holly Meegan who is stunning as Sarah Parker, the other leading role in this production. Great to see a show that celebrates female friendship.
Opera singers Suzanne Kompass (Ada Marini) and Jason Barry-Smith (Aldo Marini) are excellent as Mimma's mother and brother, with expertly sung and heartfelt performances. Igor Sas is delightful as 'Uncle" Lorenzo Perona, well-meaning Italian ex-pat who cares for both Sarah and Mimma. Brendan Hanson is strong as Gino. Ian Toyne is powerful as Senior Constable Talbot, a small time despot with an agenda.
Geoff Kelso and Caroline McKenzie play a pair (or several pairs) of gardeners, in an interesting plot device that offers a change of pace.
A dozen key ensemble members play multiple roles throughout, in well realised cameos. Particularly memorable are Mimma's sisters, nicely created by Christina Odam and Amy Fortnum, Jess Clancy's wonderfully British Camp Guard and Joel Horwood's sailor Johnny. The ensemble are joined by another dozen dancers, who boost the chorus in some larger production scenes, including a strong tap number.
Mimmais a fascinating and intriguing production with a huge amount of potential. At preview, the sound was not yet perfectly balanced, and the show was running a little long - something that might be consolidated before further tours. I'm not sure whether the operatic elements, as oustanding as they are, are commercially wise in a large scale musical, but will be appreciated by fans of classical singing.
A new Australian musical that tells a beautiful story, I hope that we will see further productions in other states.
Kimberley Shaw