By Molière, adapted by Martin Crimp. WAAPA. Directed by Humphrey Bower,. The Roundhouse Theatre, WAAPA, Edith Cowan University, Mt Lawley. June 14 - 20, 2019.
The Misanthrope features half of WAAPA's Third Year Acting class in a beautifully polished modern version of Molière's classic. Set in modern day Sydney, it is consciously and conspicuously theatrical, with clever references to its 1666 origins. Perhaps a little overlooked this week, playing at the same time as the flagship performance that is Strictly Ballroom, it is a fabulous production that deserves bigger audiences and warm accolades.
Lachlan Stevenson ably leads a strong cast in the title role, playing Alceste, a disillusioned playwright, who calls out the flaws of those around him, including himself. He is in love with gorgeous actress Jennifer, beautifully played by Mariama Whitton, who owns the stage and is completely believable as the confident, self assured "it girl".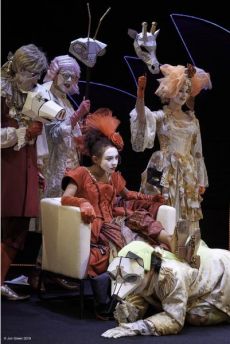 Julia Kok is very likeable as Jo, friend to both Alceste and Jennifer, and aces the blank verse with an amazing natural delivery. Hamish White is delightfully over-the-top as talent deficient playwright Covington. Ruby Maishman excels as gutter gossip journalist Ellen, while Poppy Lynch demonstrates versatility switching from the youngest character in Romeo and Juliet to the oldest in this. Peter Thurnwald and Bryn Chapman Parish work well together as Julian and Alexander, with borrowed first year student Jack Twelvetree stepping up to the plate nicely, including some excellent French dialogue as the Messenger and Simon.
This is a stunning production visually - a credit to the work of production and design students and their student leaders. Set designer Kara Rosseau has created a streamlined set, clearly working closely with lighting designer Rowan Van Blomenstein. Funky sound design from Ryan Cheshire is creative and interesting.
The costumes though are a triumph, with Jamie Fodor and her team creating a fun set of costumes that play with era and expression, then floor them with second "act" (the show plays without an interval) costumes that are even more amazing and hark back to the original production of the play.
Despite its title, The Misanthrope is a whole lot of fun, and would appeal to both lovers of the classic play as well as those who usually prefer more modern fare.
Kimberley Shaw
Photographer: Jon Green