Devised by Zoe Atkinson, Matthew Lutton and Tom Wright. Text: Tom Wright: Malthouse Theatre. Malthouse Theatre – Beckett Theatre. 10 – 25 August & Studio Underground at the State Theatre Centre of WA from 5 to 15 September, 2012
In the Beckett Theatre at the Malthouse Theatre, a psychological unraveling is, well, unraveling. It includes Oedipus, the man who famously murders his father and marries his mother, and his parents Laius and Jocasta. A prequel to the Greek tragedy, On the Misconceptions of Oedipus is an attempt to explore what happened to the people behind the myth.
Three chairs greet theatre-goers, suggesting a lot of talk in the show. The stage looks like a house at the end of a lease: plaster and paint cover up holes and imperfections on the walls. A retro radio-record-player-communication-device marks its territory stage right, its dials spinning for the full 75 minutes. The device isn't validated until 45 minutes in though.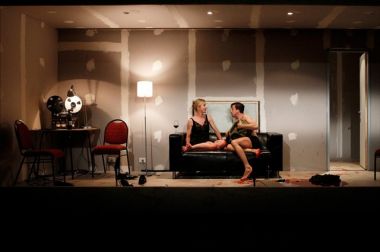 During these forty-five minutes we meet Oedipus, Laius and Jocasta (Natasha Herbet, Richard Pyros and Daniel Schlusser). We really meet them too: each character opens up their hearts and minds, and shares their tales. Parallels are drawn between this stage production and the set of Theban plays by Sophocles: Oedipus the King, Oedipus at Colonus, and Antigone. Oedipus recalls how he was tied up and abandoned as a young child, then, whilst brought up by an adopted family, receives a prophecy that he will kill his father and marry his mother. Laius imparts the fatal prophecy he once received, that any son born to him will kill him. Jocasta is the long-suffering wife, desperate for a child but respectful of her husband's fears.
The characters analyse their relationship to fate, and this provides thought-provoking subtext. They understand that with destiny comes the loss of free will. Oedipus heralds, "This is what we are: credulous morons", followed up shortly by, "I'm free to do as I please". The play questions: Is a prophecy a definite life sentence? Or do the characters bring their fate upon themselves?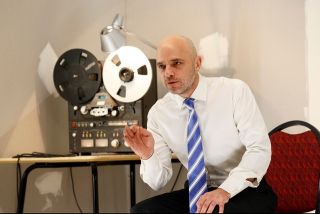 The production is clumsily divided into three parts: the psychology, the murder, the relationship. Each act feels and looks different, in lighting, sound, movement and action, but results in an overall feeling of imbalance. Director Matthew Lutton does not push this play as far as it could go. Character backstories do not shed new light on the motivations, and really, as a marketed prequel, it's hardly a "chapter of the myth [that] was never written down".
Still there are powerful moments and interesting uses of stagecraft. The actors are powerful, clear in their speech and comfortable in the set. Efficient use of sound effects and music work in building up tension, and lighting is sharp. The set, whilst tiny and lackluster at first, proves practical for act three.
To appreciate this production, knowledge of the Greek Tragedy is vital. Beware the full nudity, and expect to feel disturbed at least once.
Tammy Shmerling
Photographer: Jeff Busby.