By Ramses Graus, with Mirthe Klieverik, from Michael Ende's book 'Ophelia's Shadow Theatre'. Translated into English from the original Dutch by David Colmer. Het Filiaal (Netherlands). Director: Ramses Graus. Set Designer: Joris van Oosterwijk. Musical Director & Sound. Designer Gábor Tarján
. Artistic Director & Direction Coach Monique Corvers. Fairfax Theatre, Arts Centre Melbourne. 31 July – 4 August
If I told you a finger-puppet show about a quiet old lady, presented on a set made of cardboard shoeboxes and everyday items, was a hit with primary school children, I doubt you'd believe me. But here we have Miss Ophelia, an exquisite gift from The Netherlands, based on the book by Michael Ende (The Never Ending Story).
Using live-acting, finger-puppetry and shadow puppetry, Miss Ophelia tells the bitter-sweet story of a woman who is groomed as a great actress of the European theatre. While this dream is never realised, she gains theatrical work of sorts until tragedy strikes. Locked out of the beloved theatre she begins making friends with disconnected shadows, eventually carving out a new and hopeful life. Miss Ophelia rises to each disappointment with courage and grace. Even in death.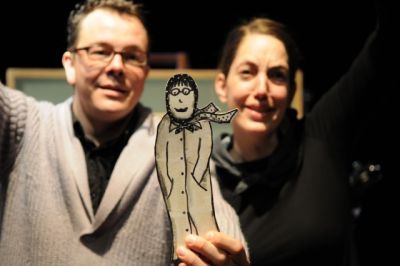 How on earth can basic cardboard cut-outs lined with black texta translate to the stage, particularly for an audience of high-tech children? Captivated by well-paced story, comic characterisations, and the call on their creative imagination, the audience is empathetically drawn into the life of this unlikely heroine, with her whispery voice and invisible life. Perhaps it's in childhood, after all, when vulnerability is most keenly felt.
With a script that is sometimes heart-breaking, often mesmerising, and other times funny, performers Ramses Graus and Mirthe Klieverik
are impressively engaging. Cue after cue is slickly paced as they adeptly switch between dramatisation, narration, prop manipulation, and puppetry. Such prowess gripped our attention.
A powerful soundtrack, cinematically inspired visual perspectives, and aerial maps, had some children openly wishing it into a movie. But this isn't a movie. It is so simply wide-eyed-beautiful that I could have wept.
Miss Ophelia is completely and utterly endearing. Here is heart-warming theatre for the coolest of kids (or something is seriously wrong), highly recommended for children aged 8 – 100.
Lucy Graham
Photographer: Joris van Bennekom.