Music: Claude-Michel Schonberg. Lyrics: Alain Boublil & Richard Maltby Jnr. The Metropolitan Musical Theatre Co. of SA. The Arts Theatre, Adelaide. May 9 – 18, 2019
First produced in London in 1989, Miss Saigon by Claude-Michel Schonberg (Music), Alain Boublil and Richard Maltby Jr. (Lyrics) was and remains one of the most internationally successful of the late-20th century 'mega-musicals'. It has also, however, been perhaps the most controversial, attracting negative criticism from the start, generally associated with accusations of 'sexism', 'racism', 'racial stereo-typing and negativity', 'misogyny' and 'cultural appropriation'.
In doing some research before seeing this production, I was shocked as well as amused at how so many people have been so easily offended by Miss Saigon. This is exemplified by its first New York production where the producer Cameron Mackintosh threatened to cancel the New York production completely because certain people and organisations were offended by the plan to have Lea Salonga (Kim) and Jonathan Pryce (The Engineer) from the original London production repeat their performances in New York; the offence in both cases was due to 'race'.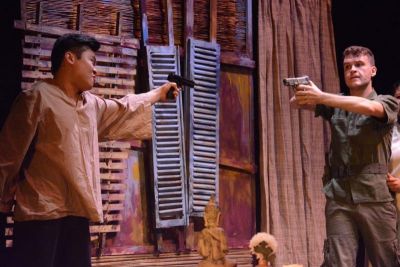 Most recently, in April 2019, there was outcry over the cancellation of a panel discussion about an upcoming production at the Overture Center of Performing Arts, Madison, Wisconsin, USA. This issue involved concerns about the show's presentation of Asian stereotypes, and a new one, that 'white women' should be 'outraged' because 'this play pits white women against Asian women'.
Considering the relatively heated sense of outrage that Miss Saigon has attracted since it first appeared in 1989 and continues to provoke in 2019 I searched to see if there had been any similar objections to the local Adelaide production. I couldn't find any. This is not to state that there aren't any objections, I just couldn't find any. On the contrary I found an overall general approval and enthusiasm for the production.
This production of Miss Saigon by The Metropolitan Musical Theatre Co. of SA is absolutely terrific. With a relatively large cast that is primarily made up of performers with an Asian background, it is a triumph on so many levels.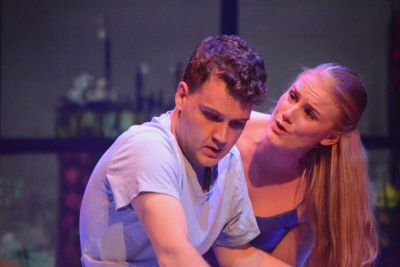 Very rarely do we see in Adelaide Asian-Australian actors performing on our stages, particularly in large numbers. In this production we do – and they are marvelous. The talent that you see on this stage is inspirational and thrilling.
Miss Saigon is an ensemble show however, with its success very dependent upon the actress who plays the central role of Kim, who is the heart and soul of the show. This role is one of the greatest female characters in musical theatre; the range and depth that it demands is enormous.
In this production Kim is played by Elena Amano who nails the role completely. She is truly wonderful in all areas, particularly the singing and acting. Furthermore, as I later was told, this is the first time she has ever acted in a show. It is a thrilling theatrical debut and I encourage any professional Adelaide theatre and film people to go and see her Kim in this production.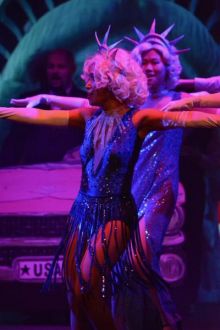 Elena Amano is supported by an equally strong cast. Jared Frost (Chris), Omkar Nagesh (The Engineer), Tom Dubois (John), Jemma McCulloch (Ellen), Shane Huang (Thuy), and Maria-Gabriella Maglahaus (Gigi) are all terrific.
It is difficult to single out any of them as they are all so good, however, I will mention Shane Huang and Jemma McCulloch. There are no 'heroes' and 'villains' in Miss Saigon; it is far too multilayered and complex than simplistic melodrama. However, the roles of Thuy and Ellen are perhaps the ones that come closest to being regarded as 'villains' as they are the most personal and human threat to the relationship between Kim and Chris. Both Shane Huang and Jemma McCulloch perform these difficult roles with great depth and power. Jemma McCulloch's interpretation of Ellen's song "Now That I've Seen Her" was amazing, acknowledged by a cheering and applauding ovation from the audience.
Full credit and praise must go to the creative team, which includes Ben Saunders (Director, Set Design, Scenic Artist), Jillian Gulliver (Musical Director), Selena Britz (Choreographer), and Greer Tappert (Scenic Artist).
The epic dramatic narrative of Miss Saigon, involving numerous scenes, complex and difficult songs, performed by a relatively large cast, was clearly and cleanly told with a dynamic expression and virtually seamless flow. Furthermore, for those who know this show, you even get the helicopter in the terrifying 'Fall of Saigon' sequence; not a real helicopter, of course, but a very clever and effective theatrical solution to this moment.
Whenever one sees an amateur production of one of the mega-musicals there is the concern that its reduced scale of production will expose the relative flaws in the show that had been covered by the spectacular design of the original productions. This is not the case with Miss Saigon, which is multilayered, complex, and brilliantly transcends its original sources.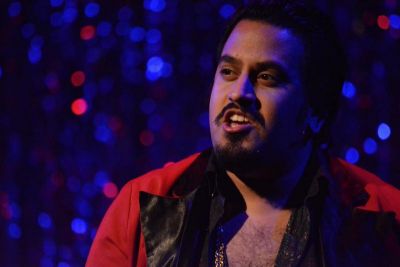 Miss Saigon is about many things – it is a tragic romance about 'maternal sacrifice', war, and survival. What links all the respective threads is the clever use of metaphors and in particular those associated with dreams. All the characters express themselves in terms of their 'dreams'. This is evident in many ways – the Engineer's Saigon bar in which Kim and Chris meet is called 'Dreamland'; Kim, Gigi and the bar-girls sing the poignant "Movie in My Mind". But what is that 'Movie'? Essentially, it is an American movie from the Hollywood 'Dream Factory'. All the characters are driven and obsessed by their respective 'dreams'. The cascade of 'dreams' reaches it climax with the Engineer's spectacular "The American Dream". All these 'dreams', however, are to be broken in one way or another. This is important as it throws Miss Saigon into the stratosphere of the universal and the sublime. Little wonder then that it is so universally popular as well as controversial.
I thoroughly recommend this production of Miss Saigon – a true masterwork of the musical theatre and extremely well done.
Tony Knight