By Karul Projects. Playhouse Studio 1, Queensland Performing Arts Centre (QPAC). 5 to 8 February, 2020
Witnessing First Nations contemporary dance is always exciting. This month, QPAC debuts a double bill – mi:wi and CO_EX_EN – works by fresh Queensland company, Karul Projects, whose co-artistic directors, Thomas E.S. Kelly and Taree Sansbury, also perform in the pieces. The group is all about enlightening and enriching contemporary culture and identity by bringing past First Nations stories into the present. In indigenous language, 'mi:wi' means 'inner spirit' or 'stomach'. The piece's movement and dance scenes are set against a gut-wrenching story recalled by Taree's grandmother, a time of historic drought that depleted the community's supply of wild rushes used in Ngarrindjeri weaving.
Performers Taree Sansbury, Katina Olsen and Keia Mcgrady move against a backdrop of ever-present lines – waves, threads, twine, fishing line – images that conjure connections to people, country and invisible songlines. There is also the ominous feeling that nature's sustainability is also hanging by a fine thread – a timely nod to the climate change question that challenges us all. The performers seem to be trying to weave themselves forward by remembering the past. It's a timely theme.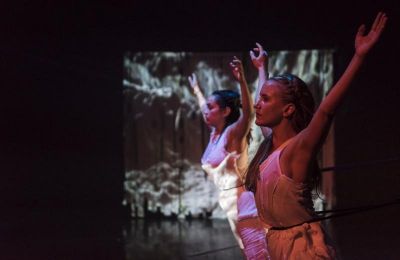 Costumer designer, Peta Strachan, has created simple cotton shifts that can represent a myriad of historical contexts – from beach dwellers and gatherers to domesticated workers. The piece builds from a series of repetitive individual movements to more energetic group dance, accompanied by a soundtrack of voices, birdsong, industrial beats and community voices – in a sound design by Alyx Dennison. While acknowledging a traditional indigenous dance foundation, the style is movement-based, with intriguing and hypnotic repetitive actions from everyday domestic life – sewing baskets, reeling fishing lines, harvesting food for the family, searching for home. The imagery was sometimes diluted by a dark lighting design that envelopes the performers. Its strength is in the flickering projections onto simple strips of fabric that evoke the landscape and seascape, bringing the country connections to the fore. The piece's simplicity will make it easy to tour, alongside its exhibition of artworks and weaving.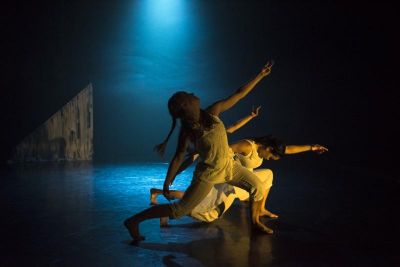 Graduates from the National Aboriginal Islander Skills Development Association (NAISDA) Dance College, Taree and Thomas have built Karul Projects independently alongside their performing careers. They have recently relocated the company to South East Queensland. The Karul team believe in reconciliation through art – and that learning about the past can help us to better understand the present and move together into the future. It is an ambition visually highlighted by the closing image of the three dancers entwining each of their individual threads into a stronger, more robust rope, weaving a lifeline for the future.
mi:wi's companion piece, CO_EX_EN, choreographed by Thomas E.S. Kelly, is also in Studio 1 from 12 to 15 February.
Beth Keehn
Photographer: Gregory Lorenzutti