Book and lyrics by Eric Idle. Music by John Du Prez and Eric Idle. One Eyed Man Productions. Directed by Richard Carroll. Hayes Theatre Co. March 6 – April 13, 2019
When news first broke that a musical was being made based on the movie Monty Python and the Holy Grail I was so excited that I bought a ticket to see it on Broadway. The sketches in the movie are still so familiar that sitting in the Hayes Theatre I could anticipate great wads of dialogue and I was regularly interrupted (inside my head) with flashbacks to the original actors. Such is the experience of a child of the 1970's who watched the movie over and over.
If you never seen Spamalot before, this production will provide plenty of belly laughs but it didn't press all the right buttons for this former Python fanatic.
Certainly a low budget production in a small space is more in keeping with the spirit of the movie, compared to the Broadway production. The knights clapped coconuts to simulate a horse in the Monty Python and the Holy Grail to save money on having to train real horses.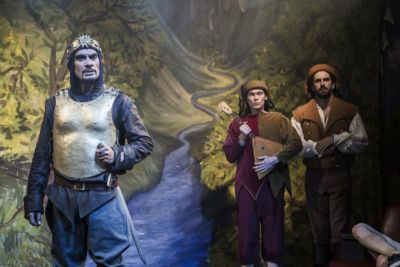 This production celebrated looking amateur. When the Black Knight lost an arm in a sword fight with King Arthur, a stage attendant walked on (lights on) and dropped a limb.
A strength however was the inventive way the space was presented. A backdrop wrapped the entire theatre. The audience were seated in Greek amphitheatre style – with those in front perilously close to the drama.
There were numerous rounds of jolly audience participation to wave and sing along to the most familiar songs.
The performances didn't always hit the mark. No actor really took the show by the scruff of the neck.
Coming closest to giving us a taste of the Monty Python magic was Aaron Tsindos as the earnestly stupid Sir Lancelot and the hilariously rude French Knight.
Rob Johnson excelled as Prince Herbert and Sir Robin's jester.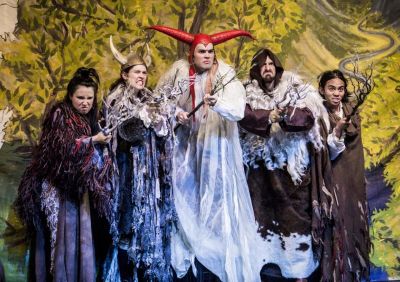 Josie Lane provided buckets of charisma as the Lady of the lake and Andrew Lloyd Weber diva.
In an unusual move for the Hayes there was no live music, but the backing track was excellent.
For me the songs which are most enjoyable are those from the original move "Brave Sir Robin", "Knights of the Round Table" and "Always Look on the Bright Side of Life" – pinched from The Life of Brian.
There was one strikingly original aspect of this production.
The original song "We Won't Succeed on Broadway if You Don't Have Any Jews" was transformed into "You Won't Succeed in Sydney if You Don't Have Any Stars".
Bravo to the creators of the musical for allowing this update which was very nicely crafted by local writers.
David Spicer
Photographer: John McRae