By Yusuf (Cat Stevens), Rachel Wagstaff and Anders Albien. Music: Cat Stevens/Yusuf. Director: Anders Albien. Musical Director / Orchestrator: Stephen Amos. Set Designer: Adam Gardnir. Choreographer: Yvette Lee. World Premiere. Princess Theatre, Melbourne (Vic). May 31, 2012 (for 12 weeks).
Moonshadow is beautiful - to look at, and listen to. With 40 songs by Yusuf (Cat Stevens) one motivation for getting a ticket is for the songs alone, but they are not the end of it. Moonshadow was always going to be different.
Moonshadow is set on the planet Alaylia, where its people live in darkness and poverty. A young man Stormy (Gareth Keegan) dreams of a better life and sets out with his Moonshadow (Jolyon James), a conscience figure who strides about on stilts, on a journey to the edge of darkness. Leaving love-interest Lisa (Gemma-Ashley Kaplan), now being courted by Pat (Blake Bowden), the son of tyrannical employer Mr. Matthew (Rodney Dobson), Stormy's quest brings him face to face with Princess Zeena (Marney McQueen), and life hangs in the balance.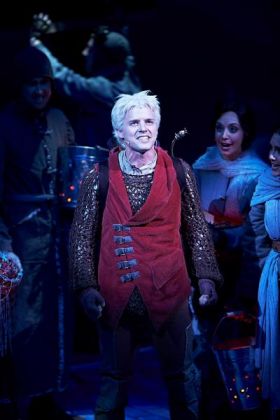 Gareth Keegan conveys the highs and lows of Stormy's rollercoaster existence with buoyant, boyish charm. His clear ringing voice is a delight and blends pleasingly with Gemma-Ashley Kaplan, whose sweet vocal in The First Cut is the Deepest is wonderfully poignant.
Blake Bowden (Patrick) and his three accomplices are wonderfully funny as they court Lisa in dance in Who'll be my love and the merciless boy-band take-off, Crazy. Stormy's mother (Sally Bourne) brings every parent along with her in Wild World, and his gruff father (Robert Grubb) teams wonderfully with Keegan in Father and Son, a high point.
There is nothing garish about the utilisation of light, reflection, colour, shadows, projected images, bubbles and fabric. Some set designs, such as the Whisper Woods and Deepsea Port are so picturesque they hold the show to ransom for a few moments.
Costuming is dominated by floor length garments, creating an old-world feel. Greater physical distance is implied between the genders in the choreography. Perhaps these are concessions to Muslim sensibilities.
While the music and the visual components cannot fail to impress, some dramatic moments leave the audience confused: A dead canary comes to life and flies away – is it a metaphor for hope?; Stormy's escape from the cage is incomprehensible; one character is resurrected because of the wishes of a child yet to be born; and 'The Spiritual Marketplace', apparently mocking the 70s peace movement, seems irrelevant and interrupts the flow of the central narrative. As an autobiographical work, one concedes these are significant to the author, but as a piece of theatre, the audience are left in the dark (if you'll pardon the pun).
At the close there are several brief but unmistakable references to The Holy, particularly in relation to Morning Has Broken, a standard in many church hymnals (although I am reliably informed it was not actually written by Cat Stevens). There is a homely corniness about the final ensemble that some will be unable to stomach, and the ending is certainly too good to be true, but that's the musical's default position. Isn't it?
Cat Stevens fans will relish the rebirth of such wonderful songs, and will undoubtedly recall the past to mind. I find them even more beautiful and poignant in the Moonshadow orchestral arrangements. When Yusuf graced the stage last night, he can have been in no doubt that the ability to craft songs from heart, mind and soul is a gift to be cherished.
Lucy Graham