By Agatha Christie. St. Luke's Theatre Society, Tarragindi, Qld. Director: Sharon White. 14-22 June, 2019.
In all my years of theatregoing, despite visiting London many times, I have never seen The Mousetrap. That oversight has now been rectified by Sharon White's excellent realisation of this world-famous Agatha Christie whodunit for St Luke's Theatre Society. Since it opened in 1952 the play has become the longest continuously running play in history. Christie wrote it in one week and it was first presented as a twenty-minute BBC radio play called Three Blind Mice in 1947.
As is typical in any Christie murder-mystery, all is not what it seems with the characters and situation. Set in a draughty guest house Monkswell Manor in the Home-Counties, a motley assortment of clichéd characters arrive and are cut off from the world by a snow fall: the young host and hostess, a tweedy County JP, a retired Major, a mannish young woman, a mysterious foreigner, an effervescent young man, and a Bobby. As the plot unfolds, all display traits of guilt as red-herring after red-herring is rolled out in this dated but entertaining thriller.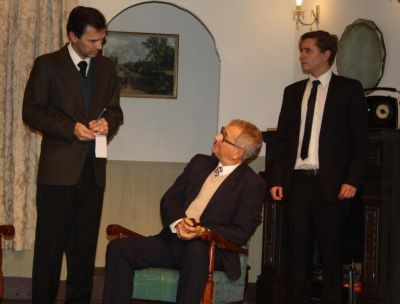 Chris Sibley wore the tweeds well as Mrs Boyle, flicking specks of dust off the mantelpiece and complaining about the radio noise. Despite being bumped off early it was a nice characterization, as was Ian Bielenberg's stiff-upper-lip Major Metcalf, and Tom Johnstone's gangly twit Christopher Wren. John Stibbard brought professional polish to the make-up wearing European Mr Paravicini, with Phillipa Dwyer nicely underplaying the part of the no-nonsense Miss Caswell. Helen Barrett was a pretty, if harassed, Molly Ralston, the hostess out-of-her-depth, whilst Andrew Townsend was attractive as her young husband who kept sign-posting clues. Best of all however was Matthew Hobbs as a charismatic Sergeant Trotter, who arrives on skis. Suave and personable, he stole the play.
Brett Simpson's set had the requisite number of doors for entrances and exits, and the costumes were character appropriate. Christie devotees were in their element and so was I.
Peter Pinne