By Lawrence Roman. Galleon Theatre Group (SA). Marion Cultural Centre. May 9-18, 2019
Lawrence Roman's Moving Mountains is a fun frolic in the hands of Galleon Theatre Group and very enjoyable, although even with 'light bulb moments' created by pings of sound, the meaning behind the play's title is never particularly obvious. Perhaps it is mostly that the lead character, Charlie Fuller, has to do a lot of manoeuvring to keep his multiple and concurrent sexual dalliances secret from his daughter, as well as separate from each of the women involved with him.
The twist is that Charlie is no spring chicken and gets up to all of this as a resident of a retirement home where his willing 'conquests' are also residents. But on the arrival of new resident, Polly, he meets his match. While he falls hook, line and sinker for her, she is disinterested and has a rather 'interesting' private life of her own.
Andrew Clark is terrific as Charlie and looks the part of an aging 'Lothario' with his superb head of silver hair, (courtesy of Galleon's hairdresser Anne-Louise Smith) and particularly so when he is resplendent in virtually matching dinner jacket. Clark effortlessly portrays a man who is at first a suave and carefree lover, but who begins to feel his age as he descends into someone who no longer has full control over his personal life.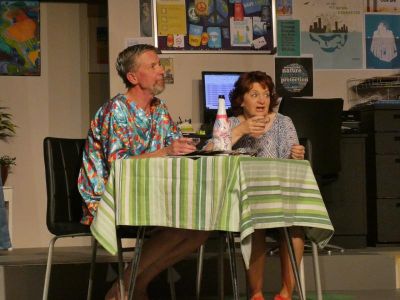 As Polly, Shelley Hampton is completely convincing. In slightly underplaying the character, she brings out Polly's vulnerability and lack of confidence, her loneliness, as well as her inner warmth and practicality; an excellent performance.
Sharon Pitardi is very good as Charlie's chatty daughter, Elaine. Pitardi develops the character well, creating a woman who is loving, concerned for and overly protective of her father, but who has a complicated personal life of her own.
Josh van't Padje does good work as the irritating, ever-present and rather 'hyper' Robert, while Adrian Heness is delightful as enthusiastic young Marc who basks in the full, unexpected, but very welcome benefit of the skills his partner learns from a certain book.
As Gwen, Lindy LeCornu is wonderful. She has publicly dedicated her performance in this play to her recently deceased elderly mother. LeCornu's joyful and energy-filled portrayal is a fine testament to that very personal dedication. Her initial scene with Andrew Clark is vocally and physically hilarious as they both cavort about the bedroom, including in song and dance.
Kathy Strauts displays fantastic body language and vivacity as another of Charlie's ladies, Harriet, but could perhaps project her voice more. When I attended she was difficult to hear from the mezzanine seats.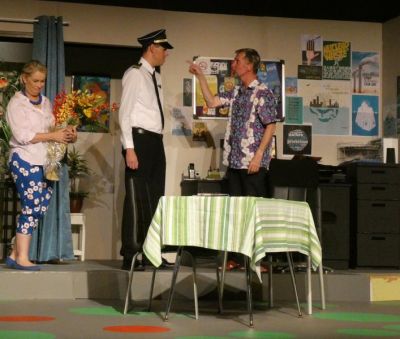 Director Erik Strauts keeps the action moving at a cracking pace and ensures the cast use the performance space very well.
The attention to detail in Brittany Daw's set design is very well achieved on stage and the use of Charlie's regular news broadcasts to the residents of the retirement village is a great way to cover the blackouts during scene changes. These broadcasts are another example of Andrew Clark's skill too, with his tone in the ongoing broadcasts gradually changing, reflecting the increasingly complicated and stressful elements of Charlie's love life.
Sound and lighting design is excellent, as is usual for Galleon Theatre Group.
Screenwriter – Playwright Lawrence Roman is probably better known for Under the Yum-Yum Tree and contributions to film than for this play, yet Moving Mountains does not pretend to be more than it is- an enjoyable, funny and light-hearted night out. By the audience reaction to Galleon Theatre Group's production when I attended, that was more than enough for all.
Lesley Reed
Shelley Hampton is a Stage Whispers reviewer