Music: Wolfgang Amadeus Mozart. Concept: Lindy Hume & Natalie Weir. Pianist: Alex Raineri. Expressions Dance Company/Opera Q & QPAC. Cremorne Theatre, QPAC, 4-12 August 2017
Following an extensive renovation, QPAC's intimate Cremorne Theatre is back in business and what better program to launch the refurbished theatre than Mozart Airborne, a combined work by Expressions Dance Theatre and Opera Q that marries the world of opera and dance.
Selecting musical arias from The Marriage of Figaro, Don Giovanni, Cosi Fan Tutte, Zaide, Idomeno and others,six choreographers, six dancers and six singers have created an evening of snapshots of life's big emotions conveying despair, infidelity, grief, faith and love found and lost.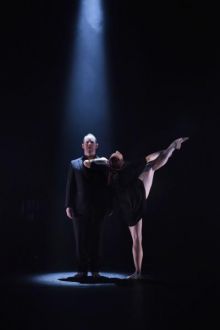 With all twelve of the performers barefooted and dressed in black (skinny jeans for the men and short dresses for the women), an on-stage grand piano played superbly by Alex Raineri, the work was an excellent night of contemporary ballet and song. Highlights of the 65 minute performance were Sarah Crane's rich soprano singing a beautifully tender "Ruhe sanft, mein holdes Leben" ("Rest in Peace, my Dear Life") from Zaide, Cosi fan Tutte's tenor and baritone duet "Secondate, aurette amiche" ("Ye friendly breezes, help o help my desires") sung with passion by Samuel Piper and Dominic J. Walsh, and danced by Benjamin Chapman, Richard Causer and Jake McLarnon to Elise May's amusing and quirky choreography - the pockets of the jeans being turned inside out was a nice comedic touch, and Don Giovanni's "La ci darem la mano" ("Give it my hand") with Elise May and Jake McLarnon mirroring in dance the voices of Melissa Gregory and Samuel Piper.
Weir's other contributions were the opening, performed to "Fantasia in D minor K397, which introduced the company through the eyes of one male dancer (Richard Causer), and the closing which was sung to "Lacrimosa" in D minor from "Requiem" with the entire company lying on the floor of the stage and rising as if from the ashes. It was a powerful finale.
Peter Pinne
Photographer: FenLan Chuang