Written and directed by Mark Trenwith. Fringe World. de Parel Spiegeltent, Woodside Pleasure Gardens, Russel Square Northbridge, WA. Jan 26 - Feb 2, 2020
Mr Snot Bottom's Horrible Terrible Really Really Bad Bad Show is not terrible or really bad. It is a raucous, wild ride of a show that had its young audience completely engaged throughout - a joyous and silly romp in which everyone had a lot of fun.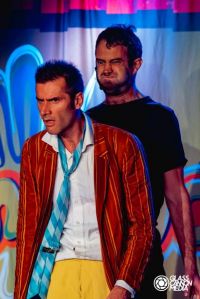 Attending a weekday show with lots of young families and a whole heap of childcare centre kids (kudos to South Lake Child Care Centre and Pachamama, Lesmurdie for taking your kids to Fringe World). This was one of the most noticeably responsive audiences I have seen, as they squealed (appropriately), yelled and laughed their way through the show.
Mr Snot Bottom, the alter ego of Mark Trenwith, prepares for his show, with the help (or hinderance) of a 'qualified technician' Anthony (Kel Balnaves) - and that is pretty much the show in a nutshell. There is loads of well-executed physical comedy, a whole heap of jokes about snot, smells and poo, and a plethora of misunderstandings. Between flying underpants, references to Baby Shark and a hastily assembled band (lovely work from audience members Jade, Samara and Marcus), the audience get to yell a lot and an hour passes very quickly.
Performers Mark Trenwith and Kel Balnaves have fabulous teamwork and respond quickly to their young fans in this seemingly haphazard but actually very well-planned show.
A great introduction to theatre and comedy for young audiences and a fun way to spend some time in the last days of school holidays.
Kimberley Shaw