By William Shakespeare. Bell Shakespeare. Directed by James Evans. Fairfax Studio, Arts Centre Melbourne. July 17 – 27, 2019 and touring.
Perfectly timed and tuned to lift us out of our relentless grey Melbourne winter doldrums – Bell Shakespeare's - Much Ado About Nothing is a must see production. Sadly the Arts Centre season is a very short stop off in the early stages of a National Tour. So if you want to see it in Melbourne you will need to be quick.
Much Adois one of Shakespeare's comedies about love deception and misunderstandings. Although often light and frothy it does have a dark side and the sexual politics touches on some raw nerves for today's more progressive audiences. All contingencies are managed well and thoughtfully in this production.
James Evans directs a strong charming and charismatic ensemble. His approach has more than a hint of the late 1970's early 80s about it. Actors share responsibility for set changes and seem to be acutely supportive of, and responsive to, each-other. A significant part of the enjoyment experienced in watching this gem is gleaned from sensing that the actors are highly tuned to proactively champion each other through out.
There is so much humour to be enjoyed. Gags start subtly, at first almost unnoticeably, and then build to the bold and explosive.
The Fairfax Studio is the perfect space to house this show. Its comfortable size means actors voices and the nuances in their work can reach the back row with seeming effortlessness.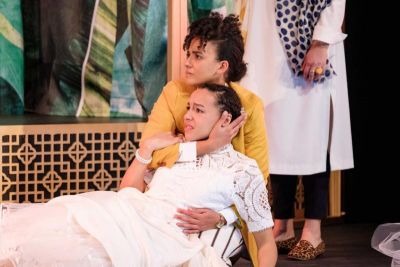 The set and costume design also smack of the 70s and 80s. Designer Rip Runchiman creates an acute contemporary feel on a vintage base with a lovely sense of eclectic desirable fashion. Her set suggests amongst other things a lavish hotel lobby.
The casting is partially colour and gender blind. Placing females in male roles helps to temperate the difficult, outmoded sexist issues that are at the heart of the complication of this text of romance, trickery and deception.
Actors who are generally new and intriguing to Melbourne audiences all entertain with energy and panache.
Danny Ball's Don Pedro played with considerable charm does much to engage the audience and bring them into the action.
Duncan Ragg's Benedick is just a delight. He is disarmingly personable, without guile and his realizations and responses subtle and believable. At the same time he is also one of the boys.
Paul Reichstein is magnetic as Don John. He portrays this snide, cunning and flagrantly destructive character with aplomb and the charm of a rogue.
David Whitney is an impressive fairly level headed patriarch. Mandy Bishop as Balthasar appealingly leads the rest of the cast in song. She doubles as a sleazy underworld constabulary member - Dogberry.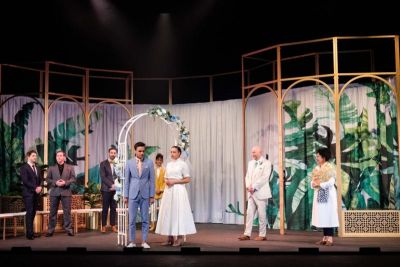 Will McDonald is a lively witty and funny Claudio and contrastingly a slovenly silly Borachio. To both characters he brings a delightful sense of fun and humour, and specifically to Claudio the naïve charm of an incurable youthful romantic desperate for his beloved.
Vivienne Awosoga plays a lovely contained Hero and unrecognizably doubles as a wacky Congade.
Zindzi Okenyo as the distainful Beatrice makes an almost mystical transformation into loving wife and partner.
Suzanne Pereira brings a feminine wisdom to the father/celebrant -Sexton - and dignity to Antonio. Marissa Bennett fulfills the contrasting roles of the refined Margaret and foolish thug Verges, most aptly.
This touring show is on the road for over three months, giving many regional audiences the opportunity to enjoy this delightful highly engaging romp.
Fun, funny and wholly entertaining – a treat!
Suzanne Sandow
Photographer: Clare Hawley
Credits
Designer – Pip Runciman
Lighting Designer – Niklas Pajanti
Composer And Sound Designer – Andree Greenwell
Movement and Fight Director – Nigel Poulton
Voice and Text Coach – Jess Chambers
Cast
Beatrice - Zindzi Okenyo
Hero/Conrade – Vivienne Awosoga
Don Pedro/1st Watchman – Danny Ball
Margaret/Verges – Marissa Bennett
Dogberry/Balthasar – Mandy Bishop
Claudio/Borachio – Will McDonald
Antonio/Sexton - Suzanne Pereira
Benedick – Duncan Ragg
Don John/2nd Watchman – Paul Reichstein
Leonarto – David Whitney