By William Shakespeare. Directed by James Evans for Bell Shakespeare. Home Of The Arts, Gold Coast. Sept 4th and 5th, 2017, as part of an extended National Tour.
First let me reiterate how bloody lucky we are to have a National Shakespeare company even if they don't always get it right. It's also laudable that their mission is to make Shakespeare more accessible and relevant to a contemporary audience - mostly by putting the plays in contemporary clothes and settings. And here's the rub (as Bill might have said): pretty much all the comedies by William S are based on star-crossed lovers, mistaken identities, people hiding behind bushes to overhear secrets, lies and conspiracy. If all that sounds familiar, but you can't place where, think Home and Away, Neighbours or pretty much any soap you've ever seen. Yes, they use Shakespeare's formula of storytelling, and so the originals often seem cliched and overworked. Strip the story and what you are left with is the quintessential splendour of the language. It soars in its beauty. So, when you have some actors who have no affinity for the greatness of the language, you're going to have some problems. This wasn't true across the board and bouquets to David Whitney, as Leonato, father of the lovely heroine - Hero (go figure), for not just beautiful acting and handling of the language, but for clearly understanding every line. Whereas most times an actor has to live within the character, with the Bard's text there must be a sense of living in the language, as if it's a second skin, not something you put on and take off at Will (sorry about that!). There's a fluidity, a mellifluous and quite intentional rhythm to the text which cannot ever be dismissed, no matter what era the setting might be.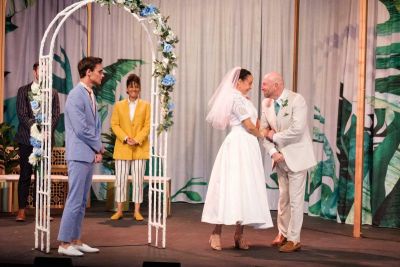 At the opposite end of the spectrum Danny Ball, a contemporary actor with strong TV credits, shows no affinity for the language at all, and I found myself wondering more than once if he actually knew what the lines he was saying meant? This, plus wooden and jerky hand movements, all worked to produce a stunted performance. The rest of the cast falls somewhere between. Evans, as Director, has chosen to make the B story, that of Benedick and Beatrice, into the main throughline, with the intended A story, that of Claudio and Hero, into a subplot. I can see the logic. The play, at its heart, is a tragedy, with a highly comical subplot. It's not easy to seamlessly marry genres, especially when the tragic side has some very dark things to say about men in general and Claudio in particular. Evans has chosen to present it to a contemporary audience as a rom-com, which they can relate to, but that totally undercuts the serious elements of the play and the questions it tackles ( some very contemporary) such as sexual inequality and (in particular) public shaming with a lie (surprise! It didn't start with the internet). Because the focus is skewed, the momentum of the play is all over the shop and Evans seeks to cover the lulls with as much slapstick as he can possibly manage. It gets laughs, but at the cost of burying original intent.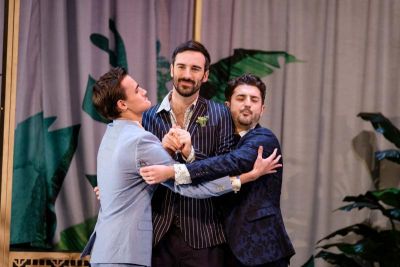 Zindzi Okenayo as Beatrice is warm and witty, though Evans directs her more as a feminist twenty years out of date, and Duncan Ragg is an hilarious and utterly charming Benedick – though the character has become a complete buffoon and one does wonder how Beatrice could be attracted to such a Dick…Bene or otherwise. Will McDonald acquits himself extremely well in both the dramatic and comic aspects of Claudio/Borachio, and Vivienne Awosoga is lovely as Hero, and very funny as Conrad, but needs to increase her projection whenever turning upstage. But the curtain calls (and spontaneous applause) belonged to Mandy Bishop and Marissa Bennett, who milked every element of comedy AND drama…and also included some very fine singing, and I loved the a capella choir at the finish.
All in all a mixed bag, but any Bell Shakespeare is better than none, and this production is still worth seeing.
Coral Drouyn
Photographer: Clare Hawley