Book by PJ Hogan. Music and Lyrics by Kate Miller-Heidke and Keir Nuttall. Based on the Movie with additional songs by ABBA. Global Creatures and Sydney Theatre Company. Directed by Simon Phillips. Set and costumes by Gabriella Tylesova. Roslyn Packer Theatre, Walsh Bay. Opening Night: Saturday November 18, 2017.
What an Abbasolutely fabulous night in the theatre, that is as refreshing as a popsicle on a hot summer's day, with as much heart and warmth as your mother's baked dinner. The biggest surprise is that not only are the songs of the famous Swedish quartet seamlessly integrated into the narrative, but that the four band members make frequent return visits as fairy-Godmother like characters.
Alongside "Dancing Queen", "Money Money Money", "Waterloo", "Super Trouper" and "SOS", the songs of Kate Miller-Heidke and Keir Nuttall appear as natural bedfellows. The musical opens with "Sunshine State of Mind". It is the first of their original tight pop songs with scrumptious lyrics. Decked out in swimming costumes, the young Queenslanders sing: 'The girls are trim we have no pubic hair. Their boobs are round and pushed up.'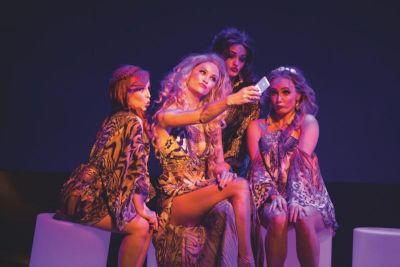 The opening night audience, though, gave the biggest ovation to the new song "Sydney" – where you can 'Do what you want to do, Be who you want to be and Screw who you want to screw.'
The big brash colourful tale of Muriel's Wedding is brought into visual realisation by the palette of designer Gabriella Tylesova. The spinning chocolate box of delights includes bright Queensland tropics, sumptuous wedding dresses, a gaudy Chinese restaurant, and Sydney's two most famous icons with clockwork simplicity.
The biggest challenge was to recreate an Olympic swimming pool. The lighting design by Trent Suidgeest (bright blue with white simmers) and choreography (aka synchronised swimming) from Andrew Hallsworth was fiendishly clever in this scene to make the audience feel they could dive in.
At the heart of Muriel's Wedding is a cracking good story that was very close to the bone for writer PJ Hogan. Muriel is based on his sister; his father was a shonky local mayor who had an affair, belittled his family in public and contributed to his long suffering wife's low self-esteem.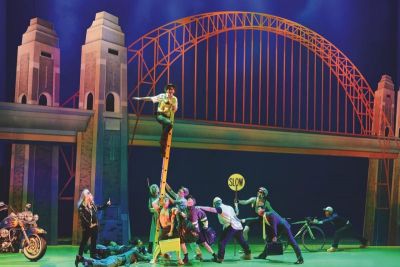 All of the favourite jokes are there. Who can forget the line What a coincidence when Bill Heslop (Gary Sweet) keeps running into mistress Deidre Chambers (Helen Dallimore). Who doesn't love the scene when bitchy bride Tania Degano (Christie Whelan-Brown) gets into a cat fight with her bridesmaid about giving her husband that wedding day blow job.
PJ has dived into the challenge of bringing Muriel into 2017 by making her a social media superstar, when the ugly duckling becomes a swan by marrying an adonis like Olympic swimmer Alexander Shkuratov (Stephen Madsen). New jokes are sprinkled into the mix – guess which Aussie male swimmer attracts the eye of Shkuratov?
All of the ingredients are deliciously mixed together with a new song, Shared, Viral, Linked, Liked and the proscenium of the stage festooned with mobile phone images of Muriel's Facebook and Instagram accounts, as she shows the world her new trophy husband.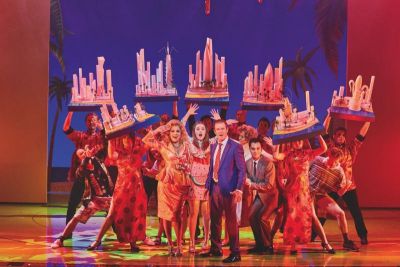 To the relief of opening night audience members this musical felt fully formed and although a little tweaking in the second act might eventuate no one left the theatre thinking it was a work in progress. It is as certain as night follows days that Director Simon Phillips and Producer Cramen Pavlovic will be making more than a few speeches at next year's Helpmann awards, drowning out Eddie Perfect's complaints of a lack of local content this year.
With such a wonderful platform, great characters and new material to showcase, the talented cast could do nothing else but shine. Maggie McKenna was a delightful Muriel – goofy and cheeky with plenty of heart, with a sweet if not a commanding singing voice.
Helen Dallimore never failed to impress as Deidre Chambers, whilst Gary Sweet appeared made for the role of Bill Heslop, just as Christie Whelan-Browne was cast to perfection as Tania Degano.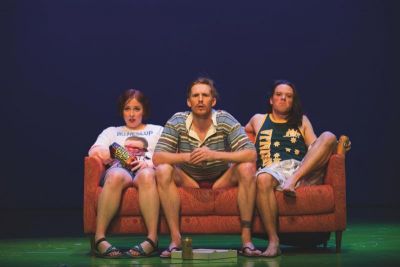 The more complex characters of Muriel's friend Ronda Epinstall (Madeleine Jones) and her mother Betty Heslop (Justine Clarke) were also sensitively portrayed.
The musical is, of course, not all froth and bubble. The penultimate song is a Eulogy sung over a coffin, bringing some quiet reflection and raw emotion into the mix.
The downbeats are temporary. Before too long the bright band under the skilled baton of Isaac Hayward are revving up the audience again with a reprise of some of the jollier songs. It might not quite be a "When My Baby Smiles At Me I Go to Rio" finale, but like The Boy From Oz this Girl from Oz is set to run and run.
Muriel's Wedding the Musical is a rolled gold hit.
David Spicer
Photographer: Lisa Tomasetti.