Book by PJ Hogan. Music and Lyrics by Kate Miller-Heidke and Keir Nuttall. Based on the Movie with additional songs by ABBA. Global Creatures and Sydney Theatre Company. Directed by Simon Phillips. Set and costumes by Gabriella Tylesova. Lyric Theatre Sydney. Opening Night: July 4, 2019
With an almost new cast, Sydney welcomed back Muriel's Wedding the Musical like beloved relatives at a family reunion. According to PJ Hogan, who wrote and directed the original film, the story of 'terrible' Muriel Heslop no longer belongs to him but to everyone who loves the story. Updated to bring Muriel into the social media age, the tale has been refreshed and makes more sense in age when someone can become famous for being famous.
It took bucket loads of chutzpah for the young film maker to get the rights to use ABBA songs in the film, and further decades of patience was required for the Swedish pop group to allow the songs to be in a stage show. Now almost two years after making its debut in Sydney (where according to the lyrics you can do what you want to do, be who you want to be, and screw who you want to screw ) the blending of ABBA's hits and the music of Kate Miller-Heidke and Keir Nuttall feels like it was always meant to be.
On the menu at the 'family reunion' is a delicious buffet of hit songs, hilarious characters and dollops of eye candy. Natalie Abbott stepped into Muriel's big high heel shoes like she always owned them. She sang beautifully, looked the part, and tore around the stage like an Energiser bunny. One of the highlights was the show stopping song Here Comes the Bride, when the spinster was indulging in her serial wedding dress trying on fetish (featured in the Stage Whispers TV episode below).
Just as razor sharp was Stefanie Jones as Rhonda Epinstall, shifting effortlessly from teenage tearaway to depressed patient. David James was charismatic as the shonky local councillor Bill Heslop and in a casting masterstroke Pippa Grandison was very special as Betty Heslop. She completed the journey from portraying bitchy bridesmaid Nicole in the original movie to Muriel's downtrodden mother in the musical.
One of the few cast members to return is Stephen Madsen as the Russian swimmer Alexander Shkuratov. He seems to have spent the last two years in the gym. They even made him get his shirt off for the curtain call, earning a further rousing reception.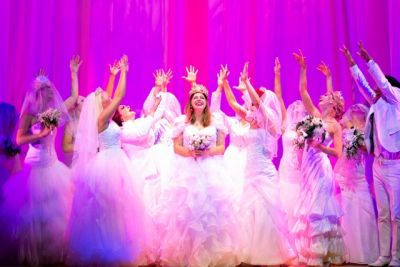 The big brash colourful tale of Muriel's Wedding is brought into visual realisation by the palette of designer Gabriella Tylesova. The spinning chocolate box of delights includes bright Queensland tropics, sumptuous wedding dresses, a gaudy Chinese restaurant and Sydney's two most famous icons with clockwork simplicity.
The biggest challenge was to recreate an Olympic swimming pool. The lighting design by Trent Suidgeest (bright blue with white simmers) and choreography (aka synchronised swimming) from Andrew Hallsworth was fiendishly clever in this scene to make the audience feel they could dive in.
At the heart of Muriel's Wedding is a cracking good story that was very close to the bone for writer PJ Hogan. Muriel is based on his sister; his father was a shonky local mayor who had an affair, belittled his family in public and contributed to his long suffering wife's low self-esteem.
PJ has dived into the challenge of bringing Muriel into 2019 by making her a social media superstar. Muriel's clumsy admirer no longer works in a video store but is a parking inspector.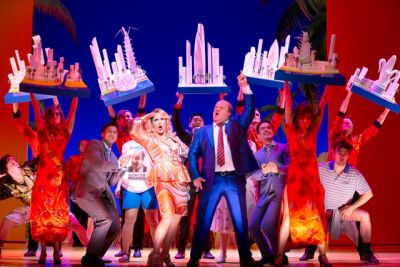 All of the ingredients are deliciously mixed together with a new song, Shared, Viral, Linked, Liked and the proscenium of the stage festooned with mobile phone images of Muriel's Facebook and Instagram accounts, as she shows the world her new trophy husband.
The musical is, of course, not all froth and bubble. The penultimate song is a Eulogy sung over a coffin, bringing some quiet reflection and raw emotion into the mix.
Although it is a cliché, if you love musicals and big brash Australian stories Muriel's Wedding the Musical is a must see.
David Spicer
Photographer: Jeff Busby