By Alison Croggon. Directed and Designed by The Rabble. Beckett Theatre, Malthouse. 2 – 18 August 2019
The name The Rabble is synonymous with risk-taking and with a license to experiment in the quest to find ways of expressing 'the feminine.' They are Feminist Theatre Practitioners. This Company's work is, more often then not, acutely intense and challenging for audiences. And this current offering, My Dearworthy Darling, is unlikely to be less polarizing than any of their previous works.
As declared by writer Alison Croggon, in the helpful program notes, this work is a true collaboration. It has me thinking of a number of fingers pushing a planchette on an Ouija board. I am not sure it reflects the sum of its creative parts. However it is unique and courageous and ultimately as challenging as it is rewarding.
The set (Kate Davis) is mostly a backdrop, a kind of scrim, which looks like the inside of a black garbage bag. But this amazing material works a treat with light (Emma Valente), and ultimately takes up the most astonishing golden colour.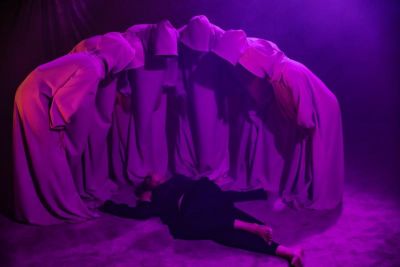 Proceedings commence with a woman in a reclining position expressing her heightened lust and passion of an unidentified being; perhaps a man, perhaps an omnipresent God or a figment of her imagination. This could just be a sincere expression of an adult woman's sexuality and passionate craving, or perhaps, the tortured desiring of a medieval vestal virgin.
It is not so much a narrative as a work that presents fragments of realities from two oscillating perspectives. The perspective of a dysfunctional contemporary family, consisting of a woman (Jennifer Vuletic), her husband (Ben Grant) and her plainly mean-spirited sister (Natalie Gamsu), and a less earthly perspective from the middle-ages that seeps in through language and imagery. There is a rich pervading poeticism in Croggon's text and an extraordinary sense of a divided reality that permeates through and from the writing.
This ambiguity feels like a clever and mysterious achievement, however it requires a unique type of patience from its audience – a kind of visceral listening. This is similar to the type of listening that much of Jenny Kemp's writing also, often, demands. It certainly left my plus one bemused. It is not an easy work for everyone to sit comfortably with and make sense of.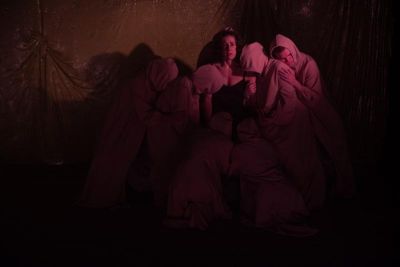 Sound (Emma Valente) is brash and intense with heaps of white noise that is jarring and unsettling. The three lead actors are wired for sound. Levels are very high and the actors' vocal levels are loud across the board. Overall this gives the sense of a lack of tonal variation – a lack of subtlety. The actors seem to signify characters rather than inhabit them. Throughout, a deep sense of sacrifice and victimization is projected on to the symbolic woman as embodied by Jennifer Vulitec.
There is humour. However it is sporadic and at times seems to be a response to extreme earnestness.
Perhaps My Dearworthy Darling will be more easy on its audience as the very short season settles in and the actors feel more relaxed.
It's contemporary, it's loud, it's brash, it's in your face and heaps of people will love and appreciate it, but, possibly, just as many hate it.
Suzanne Sandow
Photographer: David Paterson
Credits
Directed and Designed by The Rabble
Director, Composer, Lighting and Sound Design – Emma Valente
Director, Set and Costume Design – Kate Davis
Cast Includes: Natalie Gamsu, Ben Grant, Jennifer Vuletic
Monash Performance Placements: Emma Batty, Caitlin Duff, Simran Giria, Tess Hulsbosch, Catherine Malam, Gretel Sharp, Emlyn Sugden
Stage Manager – Jess Keepence
Rehearsal Stage Manager – Cecily Rabey
Monash Design Placement – Adele Cattenazzi
Monash Stage Management Placement – Savanna Wegman
The Rabble Interns:
Sofie Burgoyne and Emma Lockhart-Wilson