By Alan Jay Lerner & Frederick Loewe. Opera Australia / John Frost. Directed by Julie Andrews. Capitol Theatre, Sydney. 29 August - 8 October, 2017
There are a few moments in Opera Australia's triumphant production of My Fair Lady that warrant spontaneous applause. A tableau at the Ascot races, with resplendent blacks and whites; rows and rows of chandeliers flown in for the glorious ballroom scene; and, of course, the most fun number of the show, "Get Me to the Church on Time", set in a very realistic Covent Gardens markets. Rarely has a musical looked so good on an Australian stage.
After breaking box-office records at the Sydney Opera House last year - and then playing in Brisbane and Melbourne - My Fair Lady is now at the very large Capitol Theatre. The proscenium arch frames a very traditional staging, based on the original Broadway production. In that production, Julie Andrews originated the role of Eliza Doolittle; now she's directing.
The stars of her show are Cecil Beaton's stunning costumes (brilliantly recreated by James David Ridge) and Oliver Smith's sets (scenic supervision by Rosaria Sinisi). The quick-changing scenes are a wonder to behold, recreating a British yesteryear of pubs, street scenes and glorious markets. The large cast look brilliant in browns and oranges, blacks and whites, purples and reds.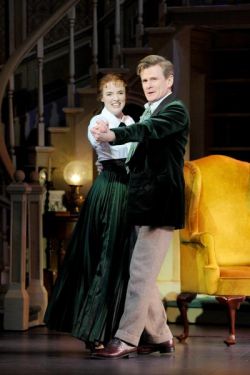 Anna O'Byrne plays Eliza and does Andrews proud with wondrous vocals in "I Could Have Danced All Night". Downton Abbey star Charles Edwards brings an understated charm to Henry Higgins (last year played by another British import, Alex Jennings). Edwards' acting is very good and he has expert timing, but "I've Grown Accustomed to Her Face" disappoints (as it has often done before).
The highlights are when the full chorus is on stage. "Wouldn't it be Loverly" and "Get Me to the Church on Time" are brilliantly performed, full of life and fun. It's great to see an opera chorus bring a musical to life, with wondrous harmonies, expert timed.
Reg Livermore shines as Alfred P. Doolittle - he has a great stage presence, not just in the big numbers but hilariously when demanding five pounds from Henry Higgins. Robyn Nevin is razor-sharp as Mrs Higgins, rather more sympathetic than her phonetics professor son.
Opera Australia clearly knows how to stage an old-fashioned musical and has deserved its success over the past few years since shifting away from Gilbert and Sullivans. Anything Goes, The King and I and South Pacific have all brought in the money. Next year, the company will once again team up with musicals producer John Frost to present Evita, starring Tina Arena. It will be interesting to see how it turns its eye to an even more modern show.
After all, there aren't many innovative ideas in this staging of My Fair Lady. But in staging a traditional night at the theatre, Opera Australia now sets the standard.
Peter Gotting
Images: Lightbox Photography