Co-created by Jimi Bani & Jason Klarwein, based on a story by Ahdi Dimple Bani & Jimi Bani. Queensland Theatre. Melbourne International Arts Festival. Arts Centre Melbourne, Fairfax Studio. 4 – 7 October 2018
Jimi Bani embraces the audience with his wonderful smile. A seasoned actor in theatre and television, he brims with confidence and infectious good humour. Within seconds, he's got us in the palm of his hand. So, he's the ideal guide to take us into the history and culture of his island – Mabuiag in the western Torres Strait. Today its population is somewhere between four and five hundred people.
My Name Is Jimi is about those people – and those who've moved away but still carry the culture in their hearts – and Jimi's mission, handed to him by his father, to 'keep the Fire burning'. The 'Fire' is their Culture. If that sounds a bit 'educational', the show is in fact an irresistible combination of stand-up comedy, slapstick, myths and legends, dioramas, cut-out puppets, projections, music and traditional and disco dance. And it's a family affair: everyone on stage is a Bani – the Jimi of the title, his grandmother Petharie, his mother Agnes, plus Conwell Bani (a big fellow with a lot of presence), Richard Bani (a great dancer, a natural comedian with a cheeky smile) and Jim's son Dimitri – astride his traditional culture and that of footy, television and his phone.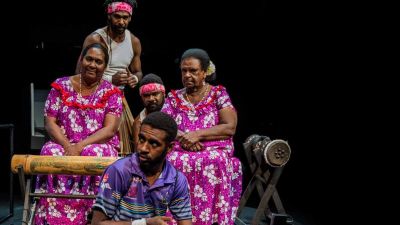 Beginning with a hypnotic traditional dance, the show continues with Jimi and his brothers dressed like the guys in Reservoir Dogs. Jimi explains some key words and the rules and traditions of kinship. Mum and Grandma sit calmly to one side, occasionally bolstering Jimi's spiel and occasionally doing some drumming. There's a witty but sharp-edged moment when a warrior in traditional dress is wheeled onto the stage in a museum-type glass case and we get a mock-solemn lecture on that traditional dress – and how it's been replaced by footy shorts and logo-emblazoned T-shirts.
The show overall makes inventive use of technology, projecting onto a huge screen maps, text and projected images of the detailed dioramas of the island itself, past and present. The designers, Simona Cosentini and Simone Tesorieri, create untouched islands under floating clouds in minature, and Daniel Anderson's lighting provides sophisticated transitions. 'Technology' is, in fact, central to the show: as both a threat to the traditional culture and a means of preserving it. The threat is delivered in a superbly succinct moment. Jimi is in full flight, passionate and enthusiastic, when he glances across the stage and sees his son Adrian, playing with his iPhone, earplug shutting out the world. Jimi takes drastic action – and the audience knows just how he feels.
If the show does soft-pedal on the effect of Christian missionaries on the traditional culture and get just little too 'educational' toward the end, the exuberance, the sense of awe at entering another world side by side with jokes and fun make this show enormously enjoyable and Jimi's plea for the survival of Wagadagam wholly convincing.
Michael Brindley
Photographer: Daniel Boud