By Bathsheba Doran. Darlinghurst Theatre Company. Eternity Playhouse. Feb 10 – Mar 12, 2017
While stories of gay people coming out to the world are no longer new, American writer Bathsheba Doran weaves here a heartfelt exploration of two young friends coming out to themselves.
Charlotte is blessed with loving, liberal-minded parents in Howard, a Jewish New Yorker who writes detective novels and seeks clarity in all things human, and Lucinda, a Southern belle turned spirited rebel. Nicholas Papademetriou and Deborah Galanos sidestep obvious clichés as the parents and embody considerable detail of warmth and humour.
Charlotte's precocious new adventures into lesbian love therefore seem easy – but she hides an earlier childhood crisis. Her best friend since then remains Jonny, whose own sexual discovery is much more guarded. His black skin adds race to the themes of gender, sexuality, family and intergenerational conflict which gently unfold in Doran's play, this her third in a trilogy about love and friendship.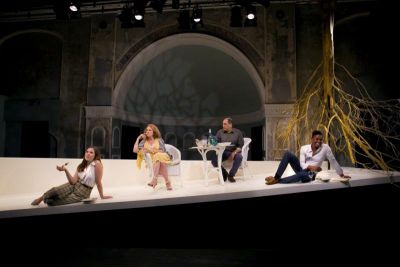 Rounding out this accomplished cast is Contessa Treffone as Charlotte, fragile but assertive, and Thuso Lekwape as the quiet, enigmatic Jonny.
Director Anthony Skuse gives his cast full room to explore and detail the pathos of their developing situation, and indeed, The Mystery of Love & Sex leaves nothing unexplained. In places Doran's play is overwritten, without the succinctness she surely brings to her other writing for film and television.
No matter, it's an engaging, affirmatively sentimental journey full of sharp comment and humour. The detail of performances is well framed and moved on Emma Vine's long white ramp, rising to an upended leafless tree, and well etched by Verity Hampson's lighting.
Martin Portus