By Larry Shue. Serial Productions. Directed by Joe Isaia and Rob Warmer. Old Mill Theatre, South Perth, WA. Aug 9 -24, 2019
Serial Productions is a small theatre company dedicated to the production of comedies. Their latest production, at the Old Mill Theatre, South Perth, is a quality ensemble production of a clever play.
The show centres around the unexpected arrival of Rick Steadman at the home of unassuming architect Willum Cubbert. Although they have never met, Rick had saved Willum's life in Vietnam, and this very strange, possibly most annoying man on the planet, throws the life of Willum, and tenants Axel and Tansy, into havoc.
Richard Hadler is almost unrecognisable in the title role. A high energy, impressive, if perhaps not likeable performance, his cringe factor is crucial to this show's success. A role that has been previously played by Rowan Atkinson, Richard works the physical comedy beautifully. He works well in opposition to Rhett Clarke's likeable 'everyman' character of Willum - who delivers a nicely measured central character.
Kylie Isaia is lovely as literal girl next door and love interest Tansy Mcginnis, who is longing to stretch her wings. Alan Gill brings charm to the cynical 'best friend' Axel Hammond, a drama critic who writes his reviews before the show, with some very funny lines that seem deliberately aimed at the reviewers!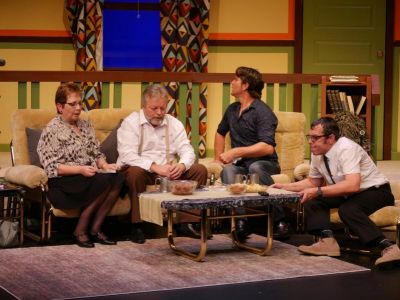 In supporting roles, John Pomfret gives credence to wealthy business man Warnock Waldgrave, with Jacqui Warner delightful as his wife Clelia. Kody Fellows' brings comic flair to Thor Waldgrave, a very spoilt and irritating child.
Set in 1980, the era is nicely recreated through set dressing by Lesley Sutton and era appropriate costuming. Shelly Miller's lighting design is well created, and George Boyd has provided a sound design that fits the piece really well. The show also features a particularly striking programme - produced by Format Finishing.
This show, with its lovely twist-in-the-tail, is a fun night at the theatre, that is being very well received. Simply a great pick-you-up, this is a great choice for those who like some escapism and fun.
Kimberley Shaw