By Geoffrey Nauffts. Boyslikeme. Seymour Centre. Oct 26 – Nov 19, 2016.
Geoffrey Nauffts' dramatic comedy Next Fall examines faith, unconditional love and commitment in the story of a gay relationship. Andy Leonard's direction examines a modern romance with sensitivity, light humour and sentimentality. A committed cast explore the sensitivity of being gay, in a mismatched relationship that challenges beliefs and values. A deeply moving portrayal of friends, family, former and current lovers coming together in the aftermath of an accident.
The play is about the five year relationship of Adam (Darrin Redgate), an atheist and Luke (Alex Ewan) who is devoutly religious. Luke resorts to praying after sex which greatly disturbs Adam. They try to make their relationship work despite the differences. Then as a result of an accident, Luke is in hospital in a coma, Adam is surrounded by Luke's family and friends and he turns to them for support and in turn questions his own beliefs.
The play is set in New York, in 2009. The set is divided in half, one side the hospital waiting room, the other Luke and Adam's apartment and Central Park.
The lighting and set design make clever use of the performance space, shifting the story in time past and present, the lighting changing colours of red, pink hues and bright stark stage light which is associated with the hospital and waiting room as the drama unfolds. Blue lighting and grey 'freestanding flats' signify the apartment and park scenes. With the use of a contemporary grey designer sofa and clear Perspex cubes as a table, storage space and a console.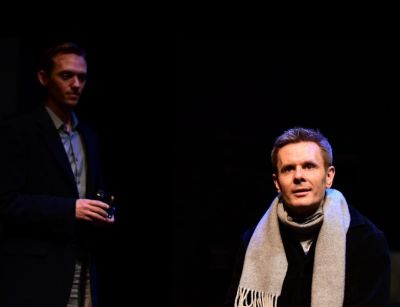 A clutter of photos framed, a large framed copy of a Mapplethorpe 'fuck off arse' portrait for the bedroom and lounge area are removed to 'de-gay' the apartment when Luke's father Butch (Cormac Costello) visits. Perspex Replica Charles Eames chairs and a table are used in the breakfast scene, the morning after Luke's performance in a play. The set design is by Irma Calabrese. The lighting design by Steve Furzey.
The performance of the cast, Mary-Anne Halpin (Arlene, Luke's mother), Cormac Costello (Luke's father) as deeply devout religious Southerners was outstanding, as was the rest of the cast. Alex Ewan (Luke) shone as an innocent individual, having issues with his sexuality, exhibiting a hint of naivety and sensitivity to his character because of his upbringing. Mark Dessaix (Brandon) as Luke's ex-lover, brings a different dimension to the play as his role, portrays him as a 'brooding moody' character where he sees loving someone is drawing the line. Darrin Redgate (Adam) as Luke's current partner going through a crisisis beautifully played. Victoria Greiner (Holly), a close friend of Luke and Adam plays a more light-hearted character, that gives the play more light moments in a play that could be easily seem full of tragedy. All the cast were exceptional in their roles. A thoroughly enjoyable production.
Charlotte Hanson