By Tom Kitt and Brian Yorkey. Fab Nobs Theatre Co. The Fab Factory Theatre, Bayswater (Vic). 15th-30th June, 2012.
Sometimes a production comes along that is so life-changing, so inspiring and touching, so perfect in every way, that you find yourself reaching for new adjectives, new superlatives to describe it.
I'm not going to say a lot about the story of Next To Normal. Stage Whispers has printed a companion piece which explains it all and the space for reviews is limited, and I need it for those adjectives. Suffice to say that it's about a family struck by mental illness; a wife struggling with psychotic bi-polar disease; a husband trying to hold her together at the expense of sublimating his own grief; a daughter disenfranchised who turns to drugs herself, and love – always love, fuelling the triumph of the human spirit.
It's easy to see why they dropped the second word in the tag "musical comedy". There are moments to relax and laugh in this harrowing, moving piece of theatre, but the journey is often as difficult for an engaged audience as it is for the family onstage. There were people crying – often in a cathartic way – all around me, and I went through six tissues and a friend's dainty hanky. Why then, you ask, should I see it and put myself through that kind of an emotional rollercoaster? You should see it because it is brilliant theatre (it won three Tony awards and the Pulitzer prize for drama); with a fabulous score by Tom Kitt and Brian Yorkey (who also wrote the book) and with a cast that will take your breath away ( where's that book of adjectives again?).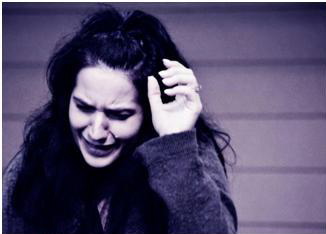 Lizzie Matjacic (Diana) is a revelation. Yes, her background as a psychologist gives her extra insight into the horror that is bi-polar; but beyond that she is blessed with consummate acting skills and a brilliant voice with an astonishing range. Her talent is so all encompassing it shines from her like an inner light. Quite simply, she is luminescent. There's never a moment in her time on stage when she is NOT Diana; when we don't feel the pain, the confusion, the vulnerability, the yearning of a woman trying to save her sanity and her family. She reaches out beyond the stage to grab us by the gut then hold us close to her heart, as if she needs our strength for her journey. It's an astonishing performance which could not possibly be bettered by any other actress. (Yes, a big call, but I'm standing by it). Jonathan Guthrie- Jones is a powerful stage presence as Dan – Diana's husband, and gives us the right combination of strength and stubborn weakness, as he refuses to deal with his own demons and puts all of himself into saving his marriage and family. His vocal strength and acting ability coupled with charm and good looks, make him an asset for any theatre company (he also dances and plays saxophone – though not in this show – which is probably a good thing). Kate Warner is totally convincing as Natalie, the neglected daughter, who dallies with drugs in her own private hell. There is such poignancy in her scenes with her mother and she never puts a foot…or tonsil…wrong vocally. Robbie Medica makes Gabe a fascinating character; both gentle and loving, and manipulative and needy depending on his mother's mood swings. Again, his great voice is used to advantage in the complex score which often sees the cast in five part harmony. Matt Allen is a delight as Henry…the stoner boyfriend who just wants to love Natalie and be loved in return. What could have been the least of the roles, becomes something very special with his interpretation. Tony Burge, in the dual role of two psychiatrists, complements the cast in every way with his strengths.
Director Nick Kong is surely a force to be reckoned with in years to come. Not only does he block well, but he understands the spiritual subtext of this piece and draws fantastic performances from all. He makes us cry, not through manipulation, but through sheer emotional honesty. He also designed the simple, tasteful and effective set. Naomi Osborne's musical direction inspires one of the best bands I have heard for a musical in many a long year. Sound and lightning also both meet Nick's high standards.
Somewhere along the journey – in the astonishingly limited eight-week rehearsal schedule, the sum of the parts of this production came together to create something that has that intangible magic needed for great theatre. And yes, I've seen the clips of the award winning Broadway production and its stars. This is better…I promise you. Thank you, Fab Nobs. You have restored my lagging faith in live theatre. I'm a believer once more.
Coral Drouyn
FOOTNOTE. I have experienced Bipolar illness within my past family. If you, or someone you love, is suffering depression or erratic mood swings, please ask for help; contact an organisation like Beyond Blue, or see your doctor. Admitting the problem makes you strong, not weak.
Click here to check out the May / June electronic edition of Stage Whispers for free.