Music by Tom Kitt. Book and lyrics by Brian Yorkey. Directed by Darilyn Ramondo Doorstep Arts. Geelong Performing Arts Centre. March 14 - 22, 2014
Some things in life are a paradox; this Pulitzer Prize winning musical is one. With a storyline covering the disintegration of a family because of one member's mental illness triggered by grief, it should be a depressing downer that makes you squirm; and yet it is witty, full of love and hope, cathartic and ultimately spiritually uplifting. It is more than a show, it is an emotional experience if it is done well. Doorstep Arts do it so well that it could be renamed Next to Perfect. This is the fourth production of the show I have seen and it is, across the board and in all aspects, the most beautifully realised of the four.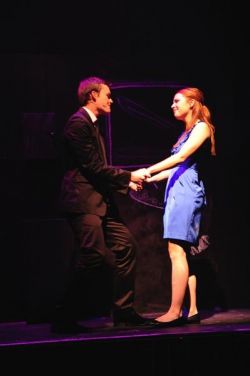 Darilyn Ramondo's sensibilities in paring back set and production to almost Japanese minimalism is exactly what the show needs to allow focus on story and emotional journey. The cleverness lies in the simplicity of the production. Everything is black. And the use of white chalk to draw in various aspects of life which can be blurred by trampling or simply erased is quite stunning. Nor has she faltered in any way with her casting or direction of her actors. Her vision is clearly defined and this may well be as good a cast as could be assembled anywhere in the world. They complement each other and make us believe they are a family, albeit a fractured one. The underlying sense of love allows us to understand why they have tried for so long to put the pieces back together.
Natalie O'Donnell is sublime as Diana Goodman, the broken wife trying so hard to be what is expected, yet lost in a grief which refuses to release its grip on her. She sang beautifully, as one would expect, but it was the raw emotion, the unrelenting pain, which reduced so many of us to tears (I went through two cotton hankies). She was simply stunning, and especially moving in "I Miss The Mountains", a poignant song about emotions being flattened by medication. Mark Dickinson brings a different reading of Dan from others I have seen, beautifully measured and it works a treat. Sometimes the role is played with too much intensity and frustration, a man eaten up with helplessness. Dickinson's Dan is confused and just doing the best he can. He's hanging in because he's decent, and he made a promise to stay and he doesn't know what else to do. He doesn't try to control the situation but he isn't weak enough to give in. He sang the difficult songs beautifully and matched O'Donnell in the sublime subtlety of performance. Their duet, "A Light In The Dark", was a superb piece of vocal acting.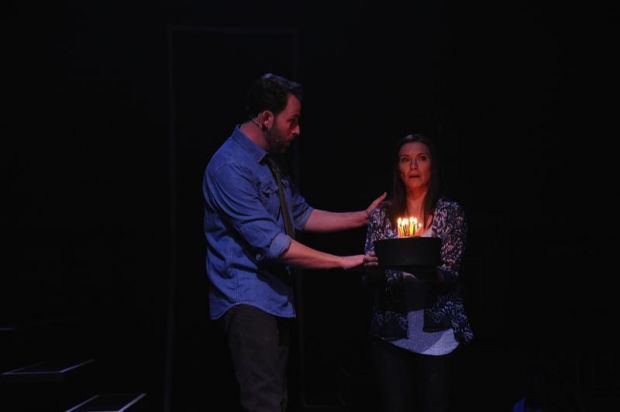 Zoy Frangos, a relative newcomer, impresses as both of Diana's doctors. They are roles that I have seen caricatured in the past, but Frangos brings empathy and understanding, along with another great voice. I really want to see more of him, especially since he is a triple threat (he played Bernardo in West Side Story). The three younger cast members are astonishing. Brent Trotter is a powerhouse as Gabe, the dead son who refuses to let Diana be free. His version of "I'm Alive" is electrifying, but his headnotes in the gentler numbers (eg "I Dreamed a Dance") and his acting overall were startlingly good. He is a major talent. Kiane O'Farrell also impresses as Natalie, the daughter lost in the midst of the angst and desperate for recognition. Her scenes with Henry, the young pothead who wants to love her, were bittersweet with the ring of truth. And Clay Roberts, newly graduated from WAAPA, creates the best Henry I have seen, full of puppydog gestures and warmth, yet with a subtextual edge that gives his minor role a real trajectory.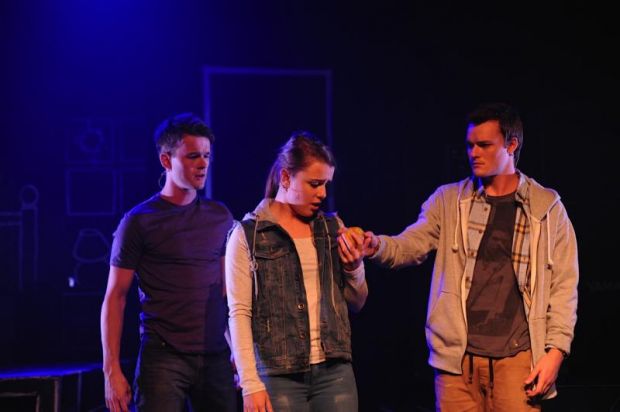 The very excellent Trevor Jones as Musical Director handles a skilled kick-ass band that it would be hard to better in any circumstances. This is the very first time I have heard every word of text and lyrics, so kudos to Dan Zampatti and Ben Anderson for the fantastic sound…even though it did falter for a few minutes at one stage. Shane Haugh's lighting design was another major triumph in this production.
Some people will never "get" Next to Normal. That's their loss. It's an incredible rock musical that stands as testament to love and the human spirit, and Doorstep Arts have reinforced that testament in this beautiful production.
Coral Drouyn
More Reading - Coral's interview with Natalie O'Donnell