Music by Tom Kitt. Book and Lyrics by Brian Yorkey. Melbourne Theatre Company, Victoria. Playhouse, Arts Centre. Director: Dean Bryant. Musical Director: Mathew Frank. 28th April – 28th May, 2011. Season extended to June 4.
The Australian premiere of Next to Normal is an outstanding musical drama which offers a window into life with bi-polar disorder. Don't go expecting large chorus numbers, glitzy costumes, spectacular dance numbers and a saccharin-sweet ending. This is tough, real-life, heart-wrenching stuff, with some decent belly-laughs along the way.
After several years on the drawing board here is a triumph of dogged persistence. Since its Broadway opening in March 2009, creators Tom Kitt (composer) and Brian Yorkey (lyricist) have received three Tony Awards, the 2010 Pulitzer Prize for Drama, the 2009 Frederick Loewe Award for Dramatic Composition, and an Outer Critics Circle Award for Best New Score.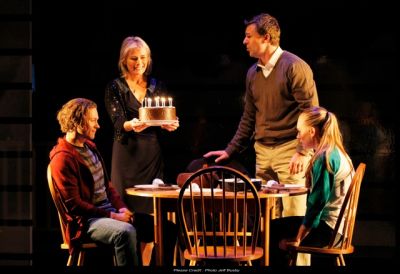 Proceedings are dominated by stylistically varied musical numbers, and very little spoken dialogue. All six cast members give impressive performances in what is emotionally and vocally demanding material, particularly for Kate Kendall who plays the bi-polar affected Diana. Particularly captivating are the various vocal ensembles which are at times quite exquisite, of note Wish I were here (Kate Kendall and Christy Sullivan), Perfect for You (Benjamin Hoetjes and Christy Sullivan) and a finely executed solo There's a World (Gareth Keegan).
The manner in which sections of the set, a semi-transparent façade of the family house, move apart is something of a metaphor for the stresses they endure. Likewise, the audience's capacity to see through these walls to the musicians at work is somewhat analogous of life laid bare.
The show includes short bursts of strobe lighting in a depiction of Electroconvulsive Therapy, coarse language, drug taking and sexual references. Next to Normal will be audio-described for those with visual impairment on Tuesday 10 May (6.30pm) and Saturday 14th May (4.00pm). A captioned performance will be given on Saturday 21st May (4.00pm).
Next to Normalis two hours and forty minutes very well spent. While it's not recommended as family fare, it will entertain, captivate and undoubtedly highlight the plight of those living with bi-polar and their families.
Lucy Graham
Images: Top:(L to R) - Kate Kendall, Matt Hetherington, Christy Sullivan, Gareth Keegan
Lower: (L to R) - Benjamin Hoetjes, Kate Kendall, Matt Hetherington, Christy Sullivan
Photographer: Jeff Busby
Read our interview with Dean Bryant - Link
Read our article about the technical and design aspects of the production in the May / June print edition of Stage Whispers - Read More about this edition.
To keep up with the latest news and reviews, like us on Facebook, or follow us on Twitter.