By Sara Ruhl. Sydney Theatre Company / Melbourne Theatre Company. Drama Theatre, Sydney Opera House. February 11 – April 2, then touring.
There's medical malpractice on stage nightly at the Sydney Opera House, and audiences are laughing.
Inappropriate?
Looking back at late 19th century sexuality (and its repression), women's rights (or, rather, the lack of them), and the inequality of male / female relationships, through early 21st century eyes, audiences can laugh knowingly, from our comfortable distance.
In the age of iphones, ipads and next week's igadget, Pamela Rabe's stylish, sensitive production begins by drawing the audience subtly back 130 years to the dawn of technology; a world where the electric light bulb was new and miraculous. A young woman delights in playing impulsively with the chord-switch, controlling the new artificial light, as the audience becomes accustomed to a different time frame. The process is helped along by Tracy Grant Lord's evocative period design.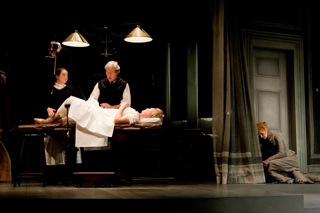 The earnest Dr Givings (David Roberts), husband and father, knows nothing about female sexual arousal, even though we're totally aware he is causing it in front of our very eyes with his Chattanooga Vibrator, a supposed medical treatment newly facilitated by the application of electricity.
Both patients and doctor genuinely believe what's going on is legitimate therapeutic treatment for the (now long discredited) condition called hysteria, suffered widely by women, but rarely, we are told, by men, and then mostly male artists. Patients are very keen, though, to return for further treatment on the slightest pretext.
As patients Sabrina Daldry (Helen Thomson) and Leo Irving (Josh McConville) emerge in sudden renewed flush of health from the doctor's surgery, 'The Next Room,' it's small wonder that his wife Catherine (Jacqueline McKenzie) becomes frustrated that her own husband can't offer her the same cure. She takes matters into her own hands, so to speak.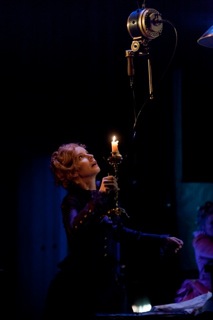 Somewhat embarrassed, black wet-nurse Elizabeth (Sara Zwangobani) – a bit of a stereotypical plot device in the end really – explains to the two women that their post-treatment symptoms are what they might experience during 'relations' with their husbands. Initially dumbstruck, they then collapse in helpless, disbelieving laughter, not surprising in an era of 'lie back and think of England' (perhaps also America in the case of this play).
The production features a splendid acting ensemble. Notably, Jacqueline McKenzie providing a vibrant, edgy focus for the play, while, once treated, Helen Thomson's Sabrina positively effervesces. There's also a winning, distinctly un-knowing comedy about David Roberts' straight-faced, intense Dr Givings.
In the Next Room is not simply a funny play. Broader issues, initially secondary to the comedy, come to the surface somewhat more seriously in the second half of the play, in a sensitively balanced production. The issues are, however, viewed under a gentle light, rather than being subjected to the (as yet uninvented) x-ray they probably deserve.
In the end, the play's emphasis shifts as the man of science stumbles toward finding the means to express love for his wife. I do wonder, though, at the need for the (male) nudity in those final moments.
Neil Litchfield
Photos: (top) Helen Thomson and Jacqueline McKenzie, (middle) Mandy McElhinney, David Roberts, Helen Thomson and Jacqueline McKenzie and (lower) Jacqueline McKenzie and the Chattanooga Vibrator, in Sydney Theatre Company's In the Next Room or the vibrator play
Photographer: Brett Boardman