By Don Zolidis and James Forte. Directed by Taneal Thompson, Rebecca Höök and Chris McRae. Marloo Theatre, Greenmount, WA. August 30 - Sep 7, 2019
Darlington Theatre Players presented an evening of one act comedies as a prelude to their entries in Hills Fest and Youth Fest, both of which are also being held at Marloo Theatre.
The Seuss Odyssey, by Don Zolidis, directed by Taneal Thompson, was presented by DTP's youth group, and explores what would happen if Homer's Odyssey had been written by Dr Seuss. A delight for lovers of Theodore Seuss Geisel, and Greek epic tales. Two charming storytellers (Aaliyah Poinen and Niamh O'Hehir) guided us through the legend, as a myriad of delightful characters were played by this baker's dozen of performers. Zac Musarra anchored the cast as Odysseus, with his wife Penelope played by Sarah Zuiddam with grace, and Kody Fellows lovely as her son, Telemachus. Highlights of the journey included Levi Jackson-Guest's enthusiastic Ajax, Olivia Fellows' fantastic Cyclops, Mia Fellows delightful Lorax inspired Poseidon, Holly Harben's elegant Athena and Lilly Miller's fearsome Cerce. Katelyn Barr and Caitlyn Maloney played a series of hapless crew members who met their demise with alarming frequency. The slaughter of the suitors was represented with some disturbing teddy bear violence led by Liam Miller as teddy bear Sir Reginald Ziggyffus Bongo O'Boom.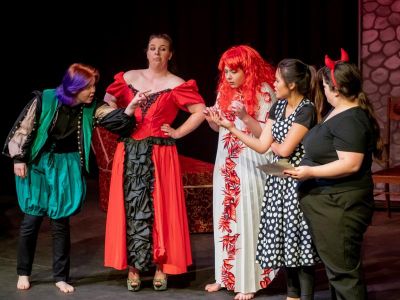 The second show, with adult and teen performers, was another from the Don Solids canon, The Brothers Grimm Spectaculathon, as two narrators attempt to recreate all 209 fairy tales collected by the Brothers Grimm, in a wild adventure, with just five performers. Lots of energy from narrator-actors Tabitha Holt and Kira Pearce. Favourites included Bailey O'Hehir's wacky Rumplestiltskin and sweet Grandmother, Lisa Tran's fed up Snow White and Kate Davoren's frantic attempt to play all of the characters in Cinderella simultaneously. This show was directed by Rebecca Höök.
The final show, the shortest and tightest of the trio, is James Forte's At Ten The Time Will Be, directed by Chris McRae. Rachel Vonk and Sean Wcislo play university physicists who are experimenting with time travel. With lots of wobbly wobbly time travel confusion, and more jumping in and out of cupboards than a thirties farce, this is a clever little piece that requires good minds and switched on performers. Great fun to watch.
These plays and many others can be seen at Hills Festival of Theatre, September 13 to 15, or at the Independent Theatre Association's Youth Fest, September 21-22, both at the Marloo Theatre, Greenmount.
Kimberley Shaw