By Arthur Kopit and Maury Yeston. Based on the Fellini movie 8½. Little Triangle. Reginald Theatre, Seymour Centre. September 6 – 14, 2019
Glorious female harmonies resonate through the tiny black box theatre as Nine opens with the "Overture Dell Donne", tantalizing the audience with the promise of a musically thrilling evening ahead. That promise is fulfilled in spades.
The visual tone is set too. Simple but striking, an upstage orchestra is seen, filtered through a scrim. Minimal props allow a large cast of talented women, stylishly dressed predominantly in black, with an occasional flash of white, to fill the stage, atmospherically lit by James Wallis
Pared-back production values throw emphasis directly onto this wonderful array of triple threats, ensuring an impressive evening of performer-based musical theatre.
Just before this 'overture', time is suspended in the split second before famous Italian film director Guido Contini commits suicide, a moment which will bookend the production.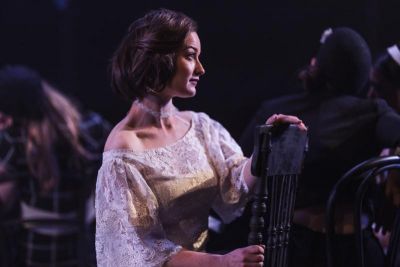 Confronted by personal and creative demons at age 40, unable to write the script for his new film and reeling after three consecutive flops, Contini summons up the women central to his life and creativity, as his present, his inner demons, and the world of his nine-year-old self (played with charm by Oscar Langmar) merge.
Taut direction from Alexander Andrews capably navigates the labyrinth of Contini's intersecting worlds in this complex piece. Is there a #MeToo layering to his interpretation?
It took me a while to find the pulse of a very different Guido from my previous experiences of the show. At the outset Andy Leonard's Guido seems to take several steps back from the charismatic Guido I'd anticipated. Much of the swagger of the brash, posturing, confident womanizer and narcissist of previous interpretations was missing. Even vocal hooks in his early songs, which have previously enforced those qualities, seemed to have been pulled back.
Sometimes this Guido almost dissolves into the audience, sitting in the aisle watching on haplessly from the periphery of his own crumbling world.
This swings the dramatic balance toward the women, who have always dominated the piece musically, honing in on the journies and choices of several women in his life as, one by one, they leave him. While Maury Yeston's Tony Award winning score remains fabulous, the script really demands even further reinvention for today's audiences.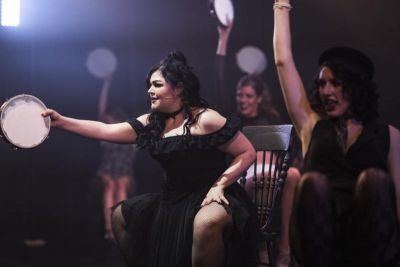 So, it is the rich and varied musical highlights from the strong female cast which you take home with you from this Nine, together with their finely delineated characterisations, and their fabulous dancing of Madison Lee's sharp, stylish choreography for this tight space.
Ensemble harmonies continue to captivate throughout, coalescing with easily Little Triangle's biggest orchestra to date, impressively led by Musical Director Antonio Fernandez.
Michele Lansdown as La Fleur and Sarah Muir as Saraghina lead the company in major highlights, barnstorming renditions of "Folies Bergeres" and "Be Italian" respectively, as Act One draws to a close.
Katelin Koprivec's ascerbic script editor Stephanie, ruthlessly shredding Guido's work, certainly delivers a particularly withering commentary.
Tisha Kelemen impressively embodies Guido's formidable mother, delivering a complex, rigid mother / son relationship, with darkness and humour.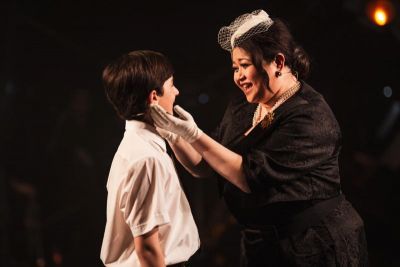 In fact, every member of the company delineates one or more individual characters engagingly, yet another delightful contribution to this production.
A sequence of three songs in Act 2, punctuated briefly by Guido's flailing and amusing (but unsuccessful) attempt to restore his career with an operatic Cassanova film, "The Grand Canal"), sees his three great loves and muses depart.
As Guido's star Claudia, Petronella van Tienen touches the collective audience heart with the complex "Unusual Way". She can no longer play the idealised saint-like roles Guido writes for her, while he's incapable of loving her for who she actually is.Caitlin Rose, sultry and passionate as Guido's mistress Carla, imparts real heartbreak in "Simple".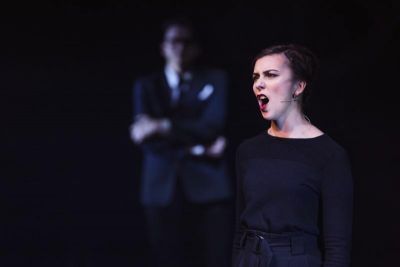 Tayla Jarret, as Guido's long-suffering wife, Luisa, retains the poise and dignity she's personified throughout, leaving the marriage with her powerful "Be On Your Own".
Every 'his', or 'Guido's', I've used in the last few pars echoes the dated script, which still challenges the best efforts to rebalance the narrative.
Still, overwhelmingly, my take away from this strong Little Triangle production is the very same pleasure I described as I began writing this review, as this Independent Musical Theatre company with the 'little' name continues to grow in stature.
If you saw the original Australian production at Sydney's sadly missed 'Maj' as I did, who knows, you may even end up sitting in the same seat, since recycled to The Reginald, at the Seymour Centre.
Neil Litchfield
Photographer: Blake Condon